Our team in Spain consists of over 60 top professionals with extensive experience in over 6500 facial feminization procedures, for 2100+ patients from 47 countries (as of December 2021).
Combined, our FFS surgeons sum up 40+ years of experience, working together with your best interest in mind. Every professional of our multidisciplinary team plays an important role in your gender affirming journey.
We put your well-being at center stage, so you feel confident at every step of the way. So, who are Facialteam's facial feminization surgeons?
Facial Feminization Surgeons
We are not just one, but an integrated team of 9 facial feminization surgeons who work together in different configurations, depending on the patient profile. This means your surgery is seen from the perspective of a variety of skilled experts, so both technical advancements and risk prevention are made easier. In addition, our team work allows tasks to be streamlined so each FFS surgeon can operate at their most efficient level. A group dynamic is considered best practice in any field because it also encourages innovation and avoids the problems associated with fatigue, important when considering the average time a facial feminization surgeon spends in the operating theater. Last but not least, our practice of hyper specialization permits FFS surgeons to focus on the minute specifics of a technique. This is yet another way our facial gender surgeons invest in developing methods for the ultimate benefit of patients, part of the foundation behind the scientific research activity conducted in parallel to our day-to-day operations. Let's get to know the dedicated facial feminization experts behind the scenes:
Hair Transplant Unit
The Simultaneous Hair Transplant method (SHT) involves a fine-tuned orchestration, conducted by leading hairline experts with eight years of experience in over 600 hair feminization cases. So your facial bone surgery may flow seamlessly into hair grafting, you will receive the attention of our team of 3 specialized dermatologist surgeons, 4 nurses and 5 trained technicians .
Sonia Chinchilla
Hair Transplant Technician
Andrea del Valle
Hair Transplant Technician
Macarena Gonzalez
Hair Transplant Technician
Miriam Rodríguez
Hair Transplant Technician
Nurses
Facialteam's nursing staff is outstanding for their positive, affirming and compassionate care. Specially trained in FFS patients, our team of 8 nurses play a vital role in the clinical protocols from preoperative testing to surgery and aftercare at the hotel. Professionals with a passion, our nurses are crucial in your healing process and the prevention of complications.
Pablo Soler
Registered Surgical Nurse
Ariana
Registered Surgical Nurse
Grassyt
Head Nurse
Antonia
Registered Surgical Nurse
Isabel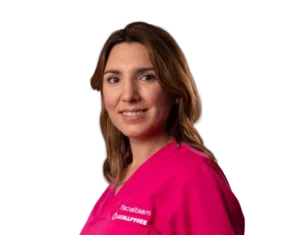 Registered Surgical Nurse
Isabel R.
Registered Surgical Nurse
Estefania
Registered Surgical Nurse
Serena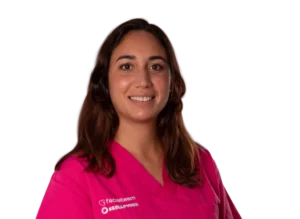 Registered Surgical Nurse
Fran
Nursing Assistant
Conchi
Nocturnal Nursing Assistant
Bibi
Nocturnal Nursing Assistant
Raquel Nicholls
Post Operative Nurse
Susana
Nursing Assistant
Research & Education
The investigative powerhouses behind our scientific activity and educational events. Thanks to this work group's collaborative, analytical and methodical talents, Facialteam has made significant contributions in surgical technology, literature and training in the field of facial feminization. Our work includes dozens of continuing education events and more than 22 academic publications, such as peer-reviewed papers and medical textbook chapters, with several new multi-center studies in the works. Important tools to help patients directly are also produced by the R&D team.
Anaesthesiology Unit
Our crew of anesthesiologists have an accrued experience in trans healthcare that is unmet in the sector. These doctors form the foundation of patient safety in surgeries, taking on the responsibility of supervising your health status before and during the facial gender surgery process. We are proud to celebrate over a decade of success in prioritizing your wellbeing first.
Dr. Darío Ballesteros
Anaesthesiologist
Dr. Daniel Rodríguez
Anaesthesiologist
Dr. Francisco Robles
Anaesthesiologist
Post-op Care
Our comprehensive care system has the goal of assisting you along your surgical journey well after the operation, so healing may happen on many levels. From psychological support at all stages to therapeutics designed to promote a relaxing recovery, our affirming protocols have been developed with your best interest in mind.
Nina Boehm
Postoperative Coordinator
Romina
Physiotherapist
Sonja Rehr
Post Operative Care Manager
Antonio
Physiotherapist
Manuel (Lolo)
Clinical Neurophysiology & Medical Acupuncturist
Elisa Santos
Medical Consultant
Dana Westermark
Psychologist
Patient Coordinators
Your primary contact once you have defined a surgical date, your coordinator will help you manage questions, schedules, testing and many other logistical or administrative tasks. They will be the first to greet you in Marbella, the one to inform your family that all is well and are warmly attentive to all the details related to your surgical stay.
Isabel Osuna
Care Coordinator Manager
Silvana Ruiz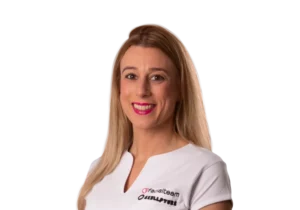 Care Coordinator
Beatriz Puerto
Care Coordinator
Cristina Castro
Care Coordinator
Patricia Sarrias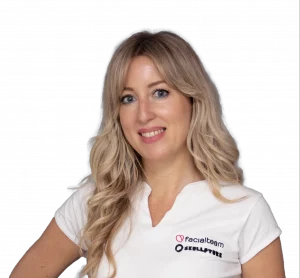 Assistant Care Coordinator
Ana Carabantes
Assistant Care Coordinator
Patient Relations
Our patient relations team are the first Facialteam staff you will speak with online, answering many random questions is part of our job! From organizing consultations, discussing the surgical proposal and reservations, we aim to set the tone with respect, kindness and efficiency.
Laura Benítez
Sales Coordinator Manager
Carmen Benítez
Patient Relations
Belén Gómez
Patient Relations