What is Tracheal Shave Feminization?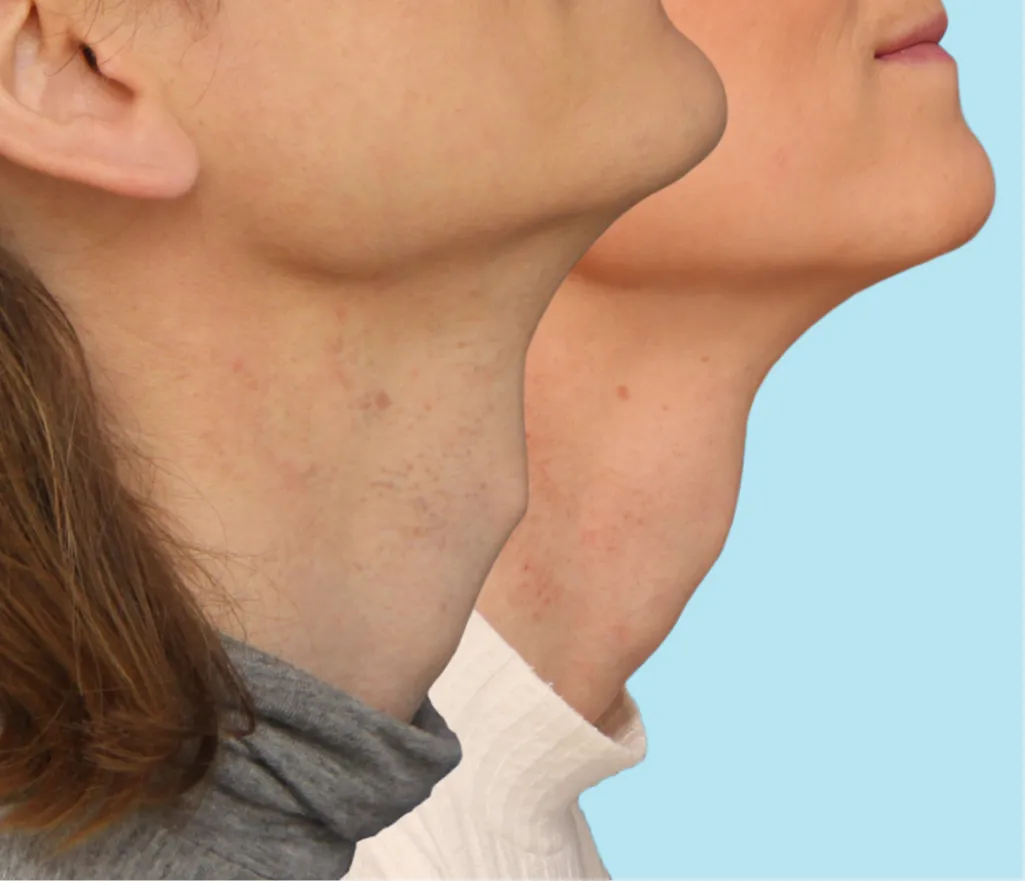 Saga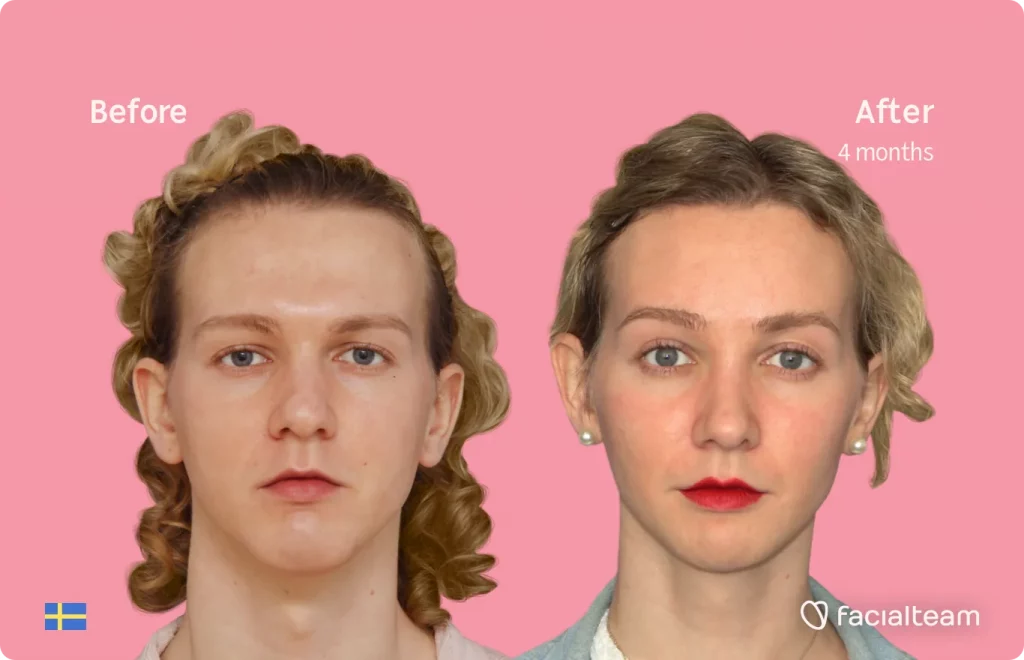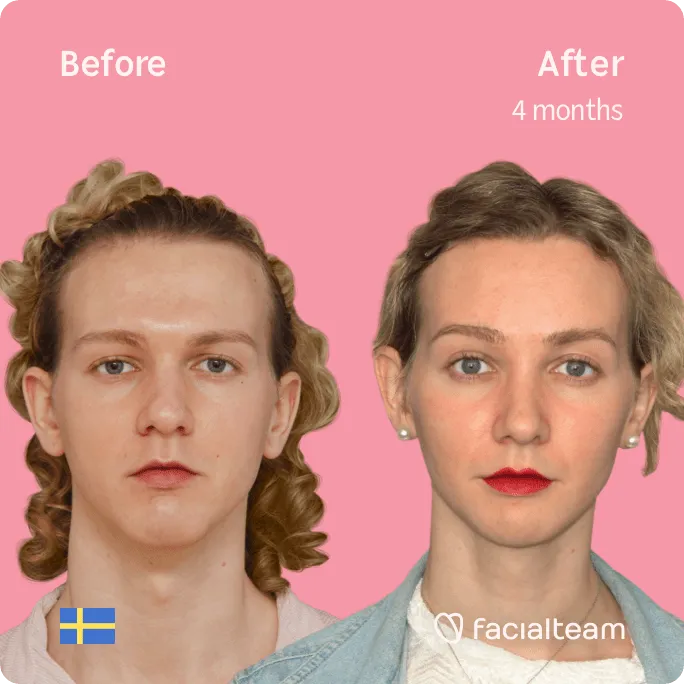 The Adam's apple can be a source of discomfort for people experiencing gender dysphoria. It's a telling feature of masculinity which may result in misgendering. A chondroplasty, or a tracheal shave feminization, is common in facial gender confirmation surgery. The majority of trans women who have been through puberty desire feminization of this aspect of the neck.
Yet you do not need to trade in a big Adam's apple for an unsightly scar.
Our team of highly experienced surgeons has innovated technology and techniques that allow us to achieve natural and safe results in tracheal shaves.
This means hiding the incision, however small, so the scar is as invisible as possible. Also, we are careful to avoid tissue adhesions (which cause odd skin movement when swallowing) and to protect your voice.
Making our patients feel safe at each step of the
laryngeal chondroplasty process is key for us. That's why our
comprehensive care offers world-class care for every patient,
from your very first inquiry until a year after your procedure.
Is a Tracheal Shave right for me?
The Adam's apple is a defining characteristic of masculinity. In many cultures, a protruding Adam's apple is common in men. Society often unconsciously associates a large Adam's apple with male bodies. So, the prominence of this tracheal cartilage is a problem for some women, but for trans women, it can cause mental distress.
When performed by experienced professionals, the procedure is an excellent solution for anyone wanting to reduce the size of their Adam's apple. If you want to feminize your overall look or improve the appearance of the neck region, then you are a good candidate for a tracheal shave.
If considering voice feminization surgery, best to do it last. It is generally recommended to have a trachea shave (or any surgery) at least 6 months before to avoid large anesthesia tubes affecting your vocal cords. If you've already had voice surgery, wait at least 6 months before any other interventions with general anesthesia and ask for a smaller diameter intubation. Read our FAQ about voice and trachea surgery on our blog.
Adam's Apple, the Neck Area and Gender
The Adam's apple is an area of cartilage on the neck. It's located in front of the larynx and is sometimes called the thyroid cartilage. The larynx acts as a resonance box for the vocal cords.
During male puberty, the larynx grows, causing a change in pitch. This growth causes it to protrude from the neck, making the Adam's apple more visible. Unusual growth and protrusion occasionally occur in cis-gender women, too.
However, for most cis-gender women, the growth is not noticeable.
You may perceive other masculine features of the neck, such as width and musculature. Tracheal shave surgery does not address these secondary characteristics.
What is involved in Tracheal Shave Surgery with TContour®?
TContour® is a surgical method for Adam's apple reduction that is performed under general anesthesia by highly expert surgeons. The advanced techniques with ultrasonic technology have been developed by our surgical team over 14 years of experience.
Facialteam's predictable outcomes in over 750 tracheal shaves since 2008 demonstrate the reliability of our innovative approach. In addition, our investigative research department has analyzed and published information on outcomes in prominent scientific journals.
Procedure & Technique
TContour® reduces the most prominent part of the thyroid cartilage. We open a 2 cm microincision needed to access the Adam's apple in the submental area, in a crease hidden in the area under the chin. The dissection must be very precise and we must correctly identify each layer to prevent damage to musculature.
From the opening in this low-visibility skin fold, we create a small tunnel to the thyroid cartilage. At this point, we identify the most prominent segments to reduce and determine the best technique for contouring. The chosen methods depend on the characteristics of your cartilage, which we can shave, burr and use ultrasound to attain the desired effect.
By meticulously planning, we can positively affect your healing process and postoperative results.
Leading Technology
TContour® incorporates piezosurgery, a versatile ultrasonic instrument, ideal for the removal of hard cartilage. As with our other procedures, the advantages it offers, such as avoiding injury to the mucosa, muscle, nerves or blood vessels, compute into benefits in healing and definitive outcomes.
By employing the latest in 3D diagnostics for surgical pre-planning of complex cases, the team is able to preserve the structural integrity of the Adam's Apple for an optimal result.
Have a look at our explicatory video about the tracheal shave in 3D
Recovery
If an Adam's apple reduction is your only procedure, you may be able to leave the hospital the same day. To meet our goal of providing you with the best comprehensive care, we recommend staying in Marbella the night following your procedure.
We will release you from our care after a final checkup from our medical team. In fact, you can remove your intradermal sutures without help. An intradermal suture is a single stitch that is easily removed at home about nine days after your surgery.
Short-term Recovery after a tracheal shave
You may feel sore, swollen, stiff and may notice a sore throat. Within a few weeks this will subside and you will be gently returning to normal routines.
Wait 8 weeks before participating in any high impact physical activity, building slowly back up with light exercise. You may request follow-up consultations at any time to discuss concerns.
Long-term Recovery after a tracheal shave
The operated area will continue to heal for a year or more. This will take patience before the feminine results emerge.
Our postoperative department remains on hand by email. You may request a final checkup after 1 year, when things will have settled for the most part and the evolution may be accurately assessed.
Our comprehensive care means that we are available for you should you need us during your recovery. After one year, we will give you a final assessment of the outcome of your tracheal shave. Read more in our blog about a tracheal shave in FFS Surgery.
Results
Initial outcomes may or may not be perceived immediately after surgery, as swelling will vary day to day. The results may seem to change over time, with asymmetry along the way as the tissues heal.
The result of this technique is a less prominent, more feminine Adam's apple although it is not always possible to make it completely smooth or as small as other women's.
Ella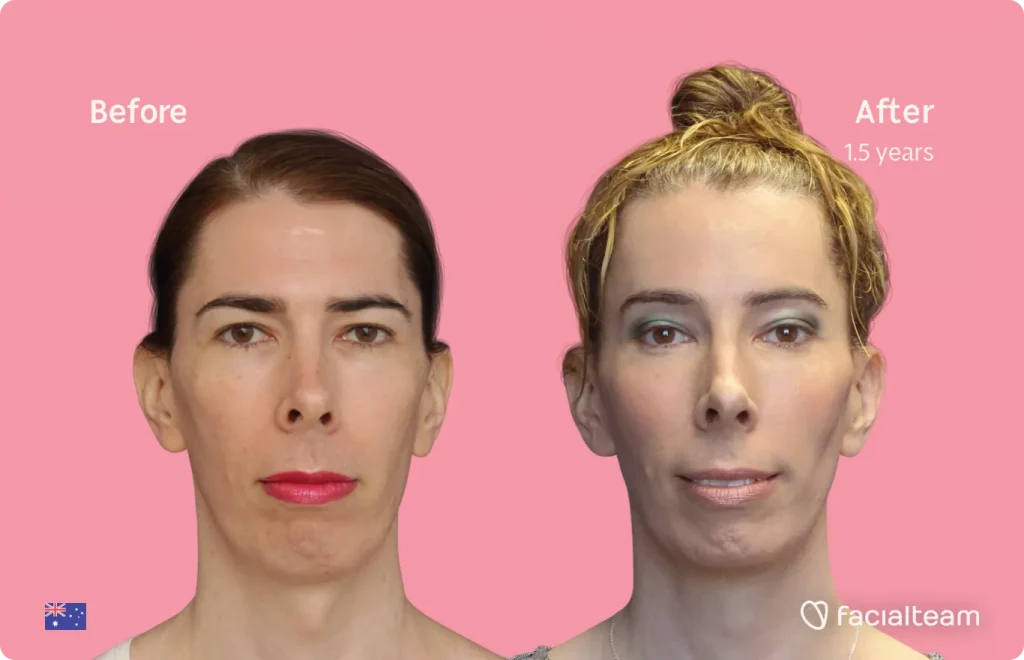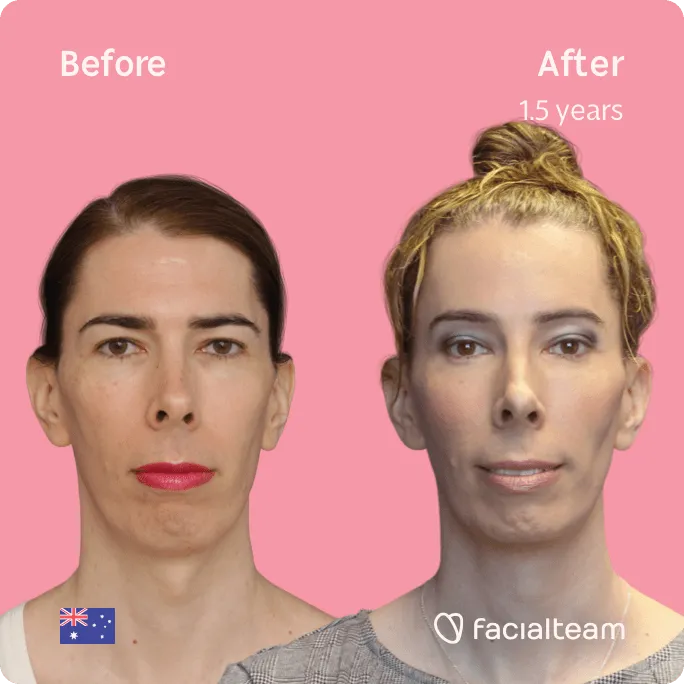 Complications
Surgery and general anesthesia are associated with potential complications which are described in the informed consents patients are provided.
TContour® reports a low complication rate of less than 0,79%.
Minor complications after a surgical intervention, such as swelling, bleeding and bruising, may occur and are controlled with prompt medical attention. Numbness and other minor side-effects of surgery may be temporary and slowly diminish over time.
Complications are normally detected within a week after surgery. For your peace of mind, we automatically provide full medical insurance coverage in the event unforeseen medical attention is needed while in Marbella.
Tracheal shave should be a safe, relatively straightforward way to enhance your feminine look.
However, Adam's Apple reduction is also one of the most frequently redone procedures. The technique calls for a careful balance when reducing the thyroid cartilage. Regretfully, unhappy patients are too often driven to seek tracheal shave corrections due to poor results by inexperienced practitioners.
Our technique avoids these three potential problems:
a reduction that is too aggressive that weakens the structure of the larynx and changes the quality of the voice;
a lack of protocol resulting in visible scars;
adhesions that cause unnatural skin movements in the neck area.
How does our trachea shave method provide a more satisfactory outcome?
Diagnostics for a predictable volume reduction.
Advanced protocols for a practically unnoticeable scar.
Best practices to prevent fibrosis in surrounding tissues.
Costs of Tracheal Shave Surgery
The price of an Adam's apple reduction can vary, as the combination of diagnostics, techniques and procedures are personalized to your particular situation.
Some of the most important factors influencing the cost of the surgery are:
The surgeon's level of qualifications and experience. Highly specialized doctors offering consistent, quality work and care services are generally higher priced than less experienced practitioners. It is important, however, to consider the potential costs that could result from any post-op complications if you choose a less qualified surgeon without less adequate aftercare services.
The type of anesthesia used. Many surgeons still strongly recommend general anesthesia for this procedure, which requires an anesthesiologist, extra convalescence time and so raises the cost. Although general anesthesia is almost always more comfortable for the patient, some centers offer a less expensive "day surgery" option.
"Bundling" with other facial feminization surgeries. Some doctors will reduce the price of an Adam's apple reduction when done at the same time as other procedures. These might be a jaw reduction or forehead reconstruction.
Geographic location. Healthcare costs in general vary widely from country to country, and this will also influence tracheal shave cost. Surgeons in the US, UK and Australia usually charge the most, while prices in Spain and Thailand are often cheaper. It's important to weigh these reduced costs against the standards of care for that country.
Price of a Tracheal Shave at Facialteam
The overall costs for a tracheal shave with Facialteam (including hospital fees and anesthesia) may range anywhere from 9 500€ to 10 200€.
Depending on the details of complexity and if you choose optional aspects, the final cost may be higher or lower.
The following services are included in all our quotes;
pre-operative consultation, standard pre-operative preparations and necessary revisions;
preoperative and postoperative CT-scan;
material costs;
costs for the operating theater and general anesthesia;
1 night in hospital (if necessary);
lymphatic drainage massage;
acupuncture service;
24 hour coordination support;
post-operative nursing care;
health insurance for surgical complications up to 30 days after your surgery.
We suggest consulting with several surgeons, whose approaches will vary, in order to make a more informed decision of what is best for you.
Consultation
Every person has a unique facial structure regardless of gender or identity. We understand this, so we work with you to create a medical plan that suits your needs and gives you the results you want. Your safety is our top priority, so we will guide you to choosing the safest procedures to meet your goals.
Start your journey in facial feminization by meeting us in the picturesque city of Marbella. Our team of professionals will be delighted to guide you by providing the tools you need in order to make the best decision along your FFS journey. For this reason, your consultations are always complimentary.
We will listen to your concerns during this meeting and create an action plan to help you reach them. You may ask for explanations about details you do not understand, so there are no surprises when the day comes.
If you are unable to meet us in Marbella, we also offer online consultations and orientation events occasionally at international locations.
Book your Consultation
We offer both online as in-person consultations in our clinic in Marbella, Spain. Our consultations are free of costs and a great aid for those patients seeking advice to start their journey.
Publications
This technique is based on several scientific articles produced by our group throughout our clinical practice. Our academic literature is a record of our dedication to the science of feminization surgery of the upper facial third since 2008.