Forehead Feminization with FOREContour®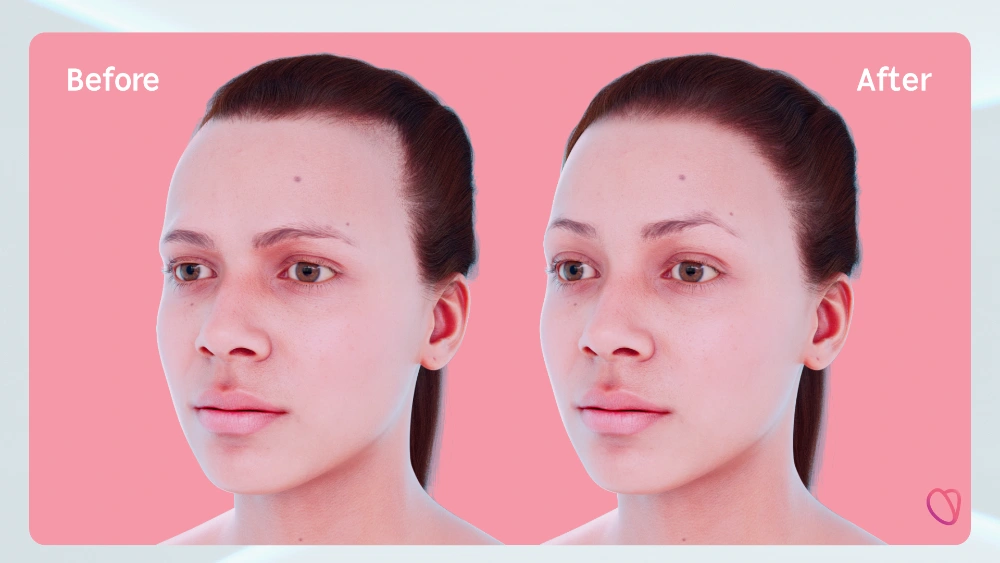 Forehead feminization, also known as forehead reduction surgery, is a delicate balance of maxillofacial techniques:
Bone osteotomies: For minimizing volume and repositioning the anterior wall of the frontal sinus.
Bone burring: To sculpt the superficial contours.
This procedure focuses on modifying the upper third of the face. The frontonasoorbital complex, which encompasses the forehead and orbital area, requires expert surgeons to achieve desired results.
Facialteam has been trusted by over 2000 forehead feminization surgery patients since the year 2008. We are proud to report extraordinary satisfaction rates, which inspire confidence in what patients describe as "high quality, life-changing results."
Your forehead feminization surgeons at Facialteam have a comprehensive care approach to every case, where your unique gender identity is respected.
Am I a good Candidate for Forehead Feminization Surgery?
Anyone seeking to modify the projections, angularity and volumes of the forehead into more harmonious or feminine parameters is a candidate for Forehead FFS. Forehead gender affirmation is for people who wish to feel more confident with their appearance, in addition to reducing instances of misgendering.
FOREContour®, a pioneering surgical technique developed by our team, would be indicated for a diversity of gender identities seeking to modify the masculinizing or pronounced bone structure of the upper facial third.
Why have Forehead Feminization?
In our cisnormative, binary-focused society, the upper facial third largely dictates facial gender perception. With the rise of facial masks, the hairline and forehead have become even more critical gender markers, as highlighted in our article on Gender Perception with facial coverings.
Facialteam's goal with forehead feminization is to closely match the facial bone and eyebrow positioning prior to hormonal changes during puberty.
Gender of the Forehead Region
The brow ridge, framing the eyes, is a distinct gender marker in binary societies. Typically, male foreheads have more pronounced features overshadowing the eyes, recognized as masculinizing.
In contrast, female foreheads are smoother, without forward-projecting brow bones. Notably, forehead height isn't the primary distinguishing factor; it's the hairline shape.
FOREContour®, Envisioning Forehead Feminization
FOREContour® merges avant-garde technology with surgical expertise to deliver exceptional forehead and brow reconstruction. Key technological highlights include:
3D Photography: Utilizes VECTRA® H1 technology for high-resolution, multi-positional facial scans, crucial for precise diagnosis.
3D CT Scans: Before consultations, we perform detailed three-dimensional reconstructions to study the frontonasoorbital complex, tailoring our approach to individual anatomical structures.
Ultrasonic Surgical Instruments: The piezoelectric scalpel allows for clean cuts in bones, ensuring precision, minimal tissue damage, and reduced postoperative complications.
With over 14 years of experience, our methodology, backed by the outcomes of over 2000 successful procedures since 2008, has been recognized and acclaimed in renowned scientific journals.
In cases where patients have a receding or M-shaped hairline, hair follicles are harvested from the strip obtained during the initial incision for a simultaneous hair transplant, known as the SHT technique.
FOREContour® – Procedures & Techniques
FOREContour® is a meticulously crafted process, blending state-of-the-art technology with unparalleled surgical expertise. This procedure has evolved from over a decade of experience and is rooted in a commitment to precision, safety, and tailored patient outcomes.
Dive into a structured overview of how this transformative journey unfolds, from initial planning to the final touches.
Planning Phase
Initial Assessment and Imaging: A 3D CT scan is conducted, offering a comprehensive visualization of the facial structure.
Surgical Planning: Using specialized software, we evaluate the facial structure to determine the personalized reconstruction needed for each area.
Frontal Sinus Analysis: We closely examine and measure the frontal sinus, an air-filled cavity in the middle of the forehead.
Creation of Surgical Guide: Based on the data collected, an anatomically precise 3D surgical guide is generated. This guide, instrumental in making accurate bone cuts around the frontal sinus area, is then 3D printed in preparation for surgery.
Initial Surgical Steps
Incision and Scalp Removal: The surgery begins by selecting the optimal incision area, considering the patient's hair density and quality to ensure a future scar remains hidden. A strip of scalp is then carefully removed.
Access to Forehead and Orbital Region: This approach grants complete access to the forehead and orbital region, crucial for the subsequent steps.
Placement of the Surgical Guide: The previously 3D-printed anatomically accurate surgical guide is fixed in position, setting the stage for precision bone work.
Bone Cut with Ultrasonic Technology: Using advanced ultrasonic technology, a bone cut is made along the guide, enhancing the safety and predictability of the procedure.
Removal of Anterior Wall of Frontal Sinus: The anterior wall of the frontal sinus is delicately removed, allowing it to be sculpted separately, ensuring its functionality and integrity remain intact.
Detailed Contouring and Reconstruction
Contouring Gender Markers: Specific gender-associated markers on the forehead are meticulously contoured to achieve a more feminine appearance.
Repositioning the Sinus Wall: The sinus wall is then carefully repositioned and secured with microscrews.
Reinforcement with Titanium Mesh: In cases where there are gaps or weak areas, a specially adapted titanium mesh may be placed for additional support and stability.
Gaining Expressiveness and Brow Positioning: As a result of these anatomical alterations, patients experience enhanced expressiveness, and the eyebrows naturally settle into a higher position, contributing to a more feminine facial profile.
Hair Transplant Phase
Addressing the Removed Scalp: Revisiting the strip of scalp removed at the surgery's outset becomes crucial for hairline feminization.
Follicular Unit Extraction: A team of specialized technicians carefully extract the individual follicular units from the removed strip of scalp.
Preparing Grafting Sites: The recipient sites on the hairline are then prepared, ensuring they're ready to receive the follicles.
Follicle Placement: These follicles are strategically placed to create a natural, dense, and either a more feminine or rounded hairline, depending on the patient's goals.
End Result: This meticulous approach to hair transplant ensures a harmonious hairline that aligns well with the newly contoured forehead, providing patients with both functional and aesthetic benefits.
Resulting Changes
The anatomical adjustments lead to enhanced facial expressiveness, with eyebrows settling in a naturally elevated position.
Results
You will likely notice results almost immediately after surgery. But it's important to know that the soft tissues will continue to improve over the course of the following year.
The result of this technique is a more feminine and harmonious upper third of the face, a smooth forehead-nose transition and a more open eye expression. Outcomes of bone surgery are stable over time.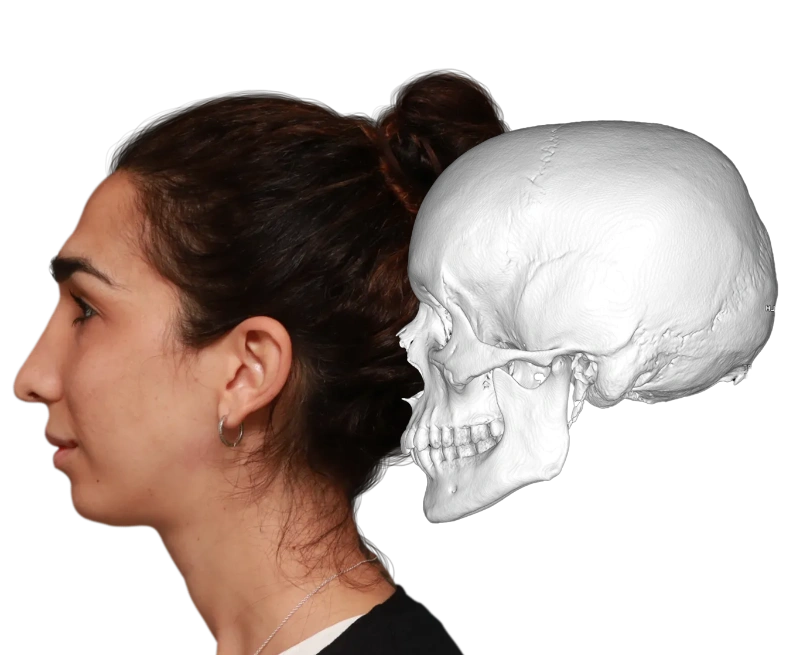 Recovery
After a forehead reshaping procedure, which may well be combined with other procedures, you should be up and about within a few days. The first 72 hours will be the most challenging due to the effects of anesthesia and your body's reaction to the procedures. Commonly reported symptoms after any invasive intervention performed under general anesthesia include nauseas, swelling, bruising, light bleeding, which are all detailed in your informed consent documents.
Short-term Healing
Your surgery requires a minimum 1 to 2-night hospital stay so our staff may control any issues that may arise during the immediate postoperative period. Your first post-op meal will happen in the hospital, so you may eat normally quite soon if you haven't undergone lower face surgery as well. You are required to remain in Marbella for 7 -10 days after surgery, until sutures may be removed. Gentle walks are encouraged and patients are invited to take advantage of the array of healing therapies offered by Facialteam, such as lymphatic drainage and acupuncture.
Two – Twelve Weeks after Surgery
Most visible bruising and swelling will diminish within a few weeks and the risk of potential complications drops significantly. Once you return home, patients should wait 6-8 weeks before participating in any high impact physical activity, building slowly back up to light, daily routines.

The type of incision in the scalp and the suturing technique we use will allow hair growth through the scar only a few months after surgery. This will take time to fill in completely. Feel free to request follow-up consultations when necessary.
Long-term Recovery
Our postoperative department is on hand to answer all your concerns as you improve. All patients may request a final checkup after 1 year, when things will have settled for the most part and the evolution may be accurately assessed.
Complications
FOREContour® reports a low complication rate of less than 1% (our average revision rate of forehead feminization surgery is 0.84%).
Surgical interventions under general anesthesia are associated with potential complications. Minor complications such as swelling and bleeding may occur in varying degrees. Other symptoms, such as numbness, may be temporary and slowly diminish over time.
Major complications are normally detected within days after surgery and we offer the security of full medical insurance coverage in the event of unforeseen medical attention is needed related to the forehead surgery.
Consultation
Regardless of gender, every single patient has a unique facial structure. That means that our surgical plans are always entirely adapted to the patient's personal objectives, be it a dramatic or subtle change, while staying within realistic and safe parameters.
The first step is to meet with a FFS specialist, whether you identify as trans, female, gender non-conforming, male or on the gender spectrum. An orientation with the facial gender specialist will begin with a discussion of your needs and objectives. This helps us to establish the essential procedures (if any), degree of change, as well as other surgical options that might be beneficial for you.
The discussion will be focused on finding the optimal approach in your specific case.
Book your Consultation
We offer both online as in-person consultations in our clinic in Marbella, Spain.

Our consultations are free of costs and a great aid for those patients seeking advice to start their journey.
Research & Education in Forehead Feminization Surgery
Facialteam's R&D group has established a new framework of modern protocols in FFS of the forehead. For us, advancements in science translate into offering our patients the very best in facial gender surgery, with natural looking results and quicker recovery times.
The development of FOREContour® is the culmination of years of research and clinical practice. The traditional technique (described in 2010) has been innovated with new technologies for greater customization to the anatomy of each individual.
Publications
This technique is based on several scientific articles produced by our group throughout our clinical practice. Our academic literature is a record of our dedication to the science of feminization surgery of the upper facial third since 2008.