4 Transgender Jaw Surgery Advancements in 2022
21 February 2022
read time - 6 min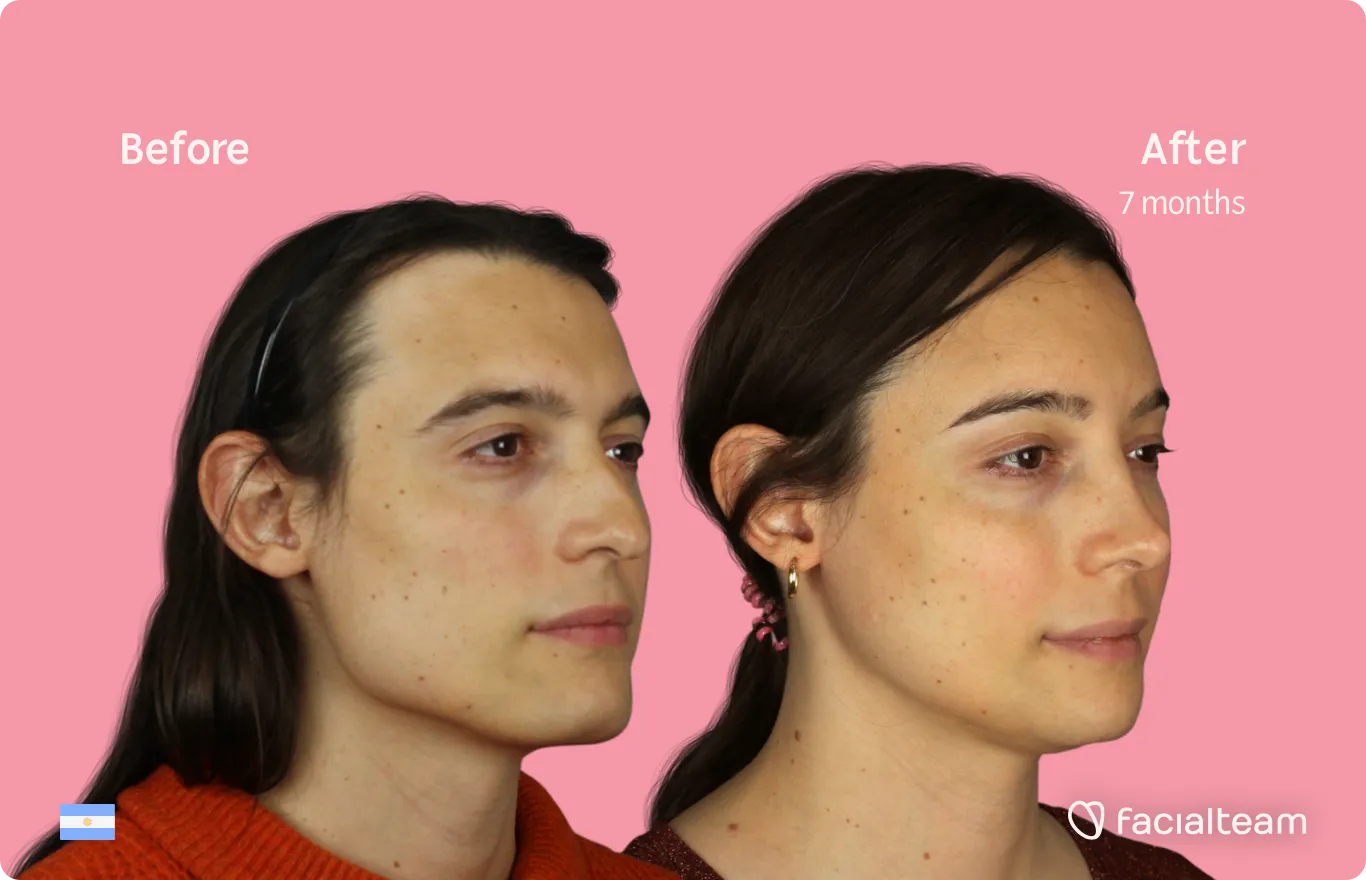 Developments in surgical techniques have led to great advancements in transgender jaw contouring in the past decade. Jaw and chin surgery techniques now offer much greater accuracy, from planning to execution.
Our team continues to research new technologies to improve the precision of facial feminization procedures. For example, JAWContour® is one of the results of years of scientific investigation. This would not have been possible without the help of the specialists at Mectron, a medical tech developer.
3D technology and ultrasonic instruments make for many gains. Here are the 4 main benefits:
Greater safety for nerves and soft tissues
Highly predictable outcomes in the chin and jaw shape with a lower complication rate
Invisible scarring and reduced postoperative bruising, resulting in faster recovery
More natural and feminine results
Advanced MtF Jaw and Chin Contouring with JAWContour®
For over 12 years we have been perfecting our facial feminization procedures. The focus is to create protocols for safe and predictable results in transgender surgery.
The vision of our FFS surgeons has always been to improve surgical techniques for transgender facial surgery. Our mission is to seek the highest precision for the reliable results that our trans patients from all over the world deserve.
JAWContour® is a game-changer in mandibular gender-affirming surgery. It offers more security and harmonious results for transgender jaw surgeries. The method involves the latest in 3D protocols for both preoperative planning and techniques during the surgery. This method helps to improve MtF jaw surgery in several important ways.
Let us explain the 4 central advantages in more detail below.
3D Technology for Predictable Outcomes
The use of 3D technologies allows for obtaining natural and highly predictable results.
We use 3D photography both before and after surgery to capture up to the smallest detail of the jaw and chin
3D CT scans allow detailed mapping of the structural level of the jaw
Our personalized 3D software helps us to design precise bone cuts. We transfer your bone structure to the 3D printer that creates the cutting guide or even anatomically accurate models of our jaw
Hidden Incisions for Non-visible Scars
Increased Safety
The printed 3D cutting guides allow for more secure jaw or chin surgery for transgender patients.
By using 3D software to map facial structures, incisions can be designed to avoid nerves and other sensitive tissue.
In addition, Piezosurgery's ultrasonic cutting tools allow our surgeons to make very precise cuts in the bone that don't affect surrounding skin, muscle or other soft tissue at all. This advantage diminishes the trauma that causes swelling and bruising after surgery, so recovery is smoother.
Another important detail is that ultrasonic osteotomies have a much lower risk of bone splitting or splintering than traditional methods.
Natural and Feminine Results
These advancements in trans jaw and chin surgery form a solid base for obtaining both natural and feminine results.
In summary, JAWContour® is a step forward in offering trans patients a greater sense of security and the viable results desired with an easier recovery, as well as avoiding the risk of botched results.
Simone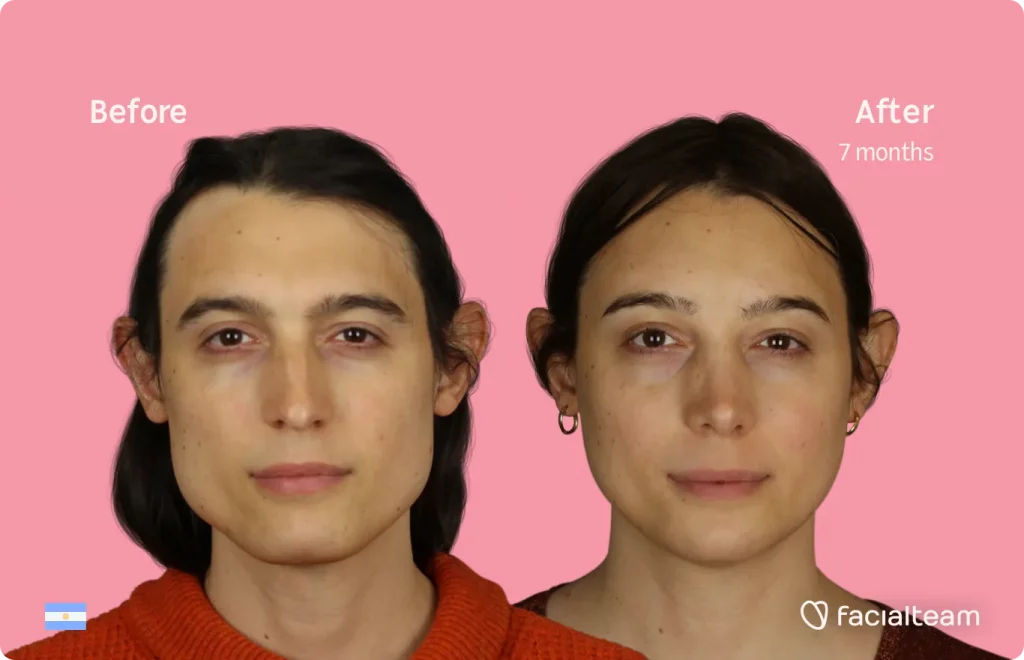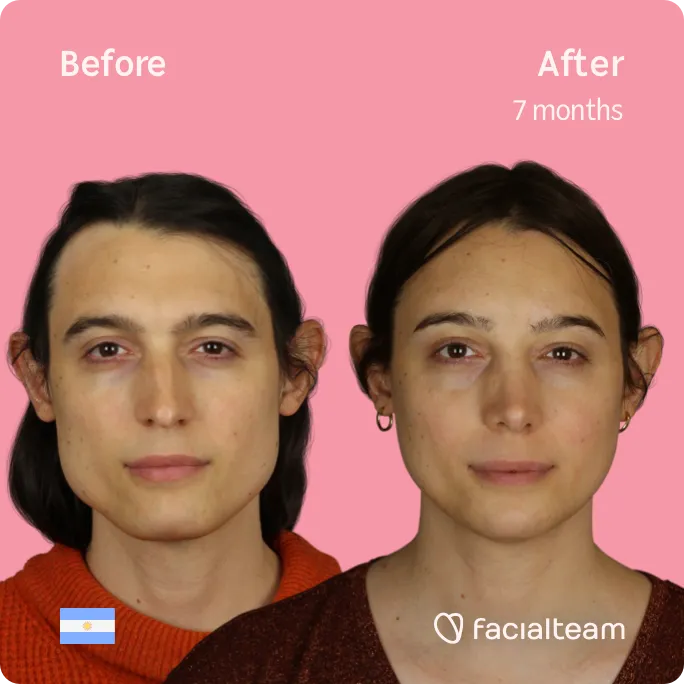 How Transgender Jaw Surgery is performed
To help you better understand how JAWContour® works, we teamed up with a 3D studio. The 3D animated video below shows how our surgeons create the most feminine jawlines and contoured chins.
Designing and Printing 3D Cutting Guides
We start by obtaining a 3D CT scan. This scan is uploaded to personalized software. Then, we design the exact bone cuts for you, a preventative measures against the risk of nerve damage and asymmetrical cuts.
This design is then translated into a three-dimensional guard, what we call a cutting guide. It's like a template we test on life-size models before employing during surgery.
The combined use of guides and ultrasonic instruments have reduced risks and surgical time.
The surgery itself
The surgeons make three small incisions inside the mouth and places a cutting guide on the jawline.
We make the bone cuts with Piezosurgery, a state-of-the-art ultrasonic instrument. This tool provides high accuracy and protects surrounding tissues like nerves and muscle.
The surgeon removes the 3D Cutting guide together with the bone fragment. A high-speed burr is then used for the final shaving to leave the bone surface smooth.
This process delivers a precise and symmetrical bone cut. The great advantage for both patients and surgeons is the stability of JAWContour's procedures, so the risk of complications and unforeseeable outcomes is far reduced.
Steps to get an MtF Jawline Contouring
Reshaping the lower jaw and chin to be more feminine is called jaw and chin feminization. Unfortunately, botched transgender chins are not uncommon, so we see many redoing cases.
Choose a facial feminization surgery jaw professional with both skill and experience. We recommend you speak to several clinics before choosing your surgeon.
Here is the process in 10 stages to give you an idea of the order in which it all happens:
First step is to get a consultation with Facialteam, we recommend you speak with other FFS surgeons as well.
Do more research by talking to both other professionals and patients. It is important to find a clinic that fits your needs and meets your expectations.
Facialteam offers both online and in-person consultations. On the day of your consultation you will speak with an FFS surgeon who will then analyze your facial features.
Afterwards you will receive your personalized quote, based on your desires and the doctor's recommendations. You may schedule other consultations if necessary to discuss details.
Once the treatment plan is agreed upon and you accept the estimate, one of our patient coordinators will plan the day of surgery with you. This same coordinator provides you will all information you need for your travel and stay with Facialteam.
A few days before the surgery you will arrive to have a pre-op consultation to make sure everything's set.
On the day of your surgery you'll have a chance to see the surgeons beforehand, in case you have any last-minute doubts.
You'll be in the operating theater for some time. After the surgery you'll need to recover in our clinic for 1-2 days. In the 8-10 days after surgery you should stay in a hotel in the area for the rest of your recovery. We recommend you stay in our collaborating accommodation so our nursing staff can drop by for regular visits.
On the last day of your visit, you'll have your final consultation with the post-op coordinator.
Our team is still available once you are back home to continue the rest of your recovery, with online attention just the touch of a button away.
Book your Consultation
Speak with one of our surgeons to learn about our other facial feminization procedures. Consultations are free and can be held in-person or online.