What is Jaw Feminization Surgery?
Susan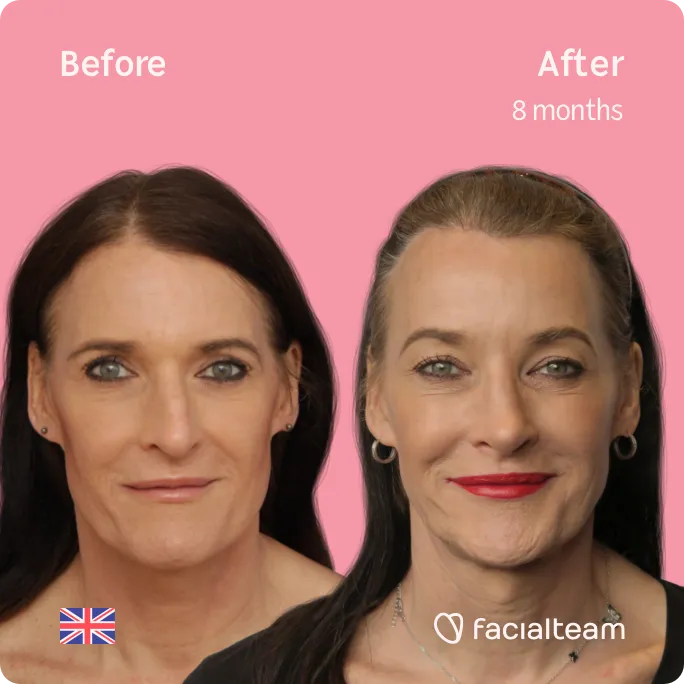 Jaw Feminization Surgery, often referred to as Jaw FFS, is an umbrella term for those procedures involved in modifying the size of the mandibular body, to have a more feminine appearance. With feminization of the jaw we decrease the mandibular height and volume with different techniques on the bone.
Yet, how exactly does jaw feminization surgery work? First, we need to understand jaw shape on several levels: the skin, underlying tissue, fatty deposits, muscles and finally, the bone.
Recontouring the jaw can radically change your appearance. Procedures focus on three vectors: the angles, position and volume of the lower jaw bone. Techniques are controlled to the millimeter, be it a small or dramatic adjustment to the width/flare, height, projection or volume of your jaw bones. You may be offered different types of jaw operations or a combination of procedures:
Contouring of the surface, also known as shaving, burring or sculpting
Osteotomies, which is the excision of bone segments in order to more dramatically change the size, shape, position or orientation of the jaw.
These techniques involve some very complex surgical planning and know-how, where experience counts.
With over 2000 lower jaw and chin procedures performed since 2008, Facialteam equals excellence in jaw feminization surgery. Yet we do not stop in the operating theatre – our academic research team continually generates scientific publications in the field of facial gender affirming surgery.
Clinical planning sessions by our development team have driven important technological advancements in ultrasonic instrumentology and 3D applications for more precise, predictable and safer outcomes. Facialteam has established some of the most modern protocols in FFS jaw gender confirming surgery.
Your jaw feminization surgeons at Facialteam take a comprehensive care approach to every case, where your gender identity is respected. Our philosophy is designed on core pillars to provide the best gender-affirming experience: personalized assessments, quality of care services at every stage and natural looking results. Your satisfaction is a top priority, which means rigorous quality control is a routine, inside and outside of the operating room.
Am I a good Candidate for Jaw Feminization Surgery?
Both cisgender and trans or gender nonconforming people who wish to modify the width, angularity and volumes of the jaw, often for more harmonious and feminine facial features, are candidates for Jaw FFS. Facial jaw gender affirmation is for anyone who wants to feel more confident in themselves, as well as how their gender identity is perceived by others.
Our JAWContour® method is indicated for a diversity of genders seeking to soften the masculine or excess bone structure of the lower facial third.
Objectives
The jaw may influence how a face is unconsciously gendered, be it masculine, feminine or androgynous. The main objectives of Jaw Feminization Surgery are, when necessary:
Create smaller mandibular angles with a height reduction
Narrow the width of the lower jaw at the rear angle and/or the widening "flare" along the length of the jaw bone
Modify the shape of the jaw for a more feminine or harmonious format
Gender of the Jaw Region
There is debate on whether the jaw expresses gender since there are many examples of beautiful women with prominent, strong jaws. So this facial feature should be assessed in the frame of your unique facial balance.
The stereotypical female jaw exhibits a series of characteristics that commonly influence gender recognition, especially when combined with other social constructs associated with femininity, such as hair, skin, dress, voice, and behavior. However, let's deconstruct our perception of the jaw into two areas: the mandibular angle and the length of the mandible for explanatory purposes:
The mandibular angle
In men, the angle of the jaw is usually more square-shaped. It also often has larger, well-defined corners. Therefore, these are typically considered masculine traits, although it is true that many attractive cis female faces have these characteristics without reading masculine.
The mandibular body
The male mandibular body, or the bone between the mandibular angle and the chin, typically has a greater volume of bone as well as an outward flare that's not as common in the feminine counterpart.
In addition, the transition between the lower jaw and chin is another key area that must also be dealt with in some facial feminization cases where a more rounded look is desired. This area generally corresponds with the point where the mentonian nerves emerge, meaning it must be handled with great care as it involves combining jaw and chin feminization techniques.
What is involved in Jaw Feminization Surgery with JAWContour®?
Jaw feminization involves modifying the jawbone under general anesthesia, performed by trained and licensed maxillofacial surgeons. JAWContour® is an advanced method developed by our surgical group, backed by 14 years of experience and more than 800 jaw surgeries.
We offer minimally invasive surgery with the security of 3D planification and ultrasonic technology, both with scientifically proven outcomes published by our research team. A 3D assessment protocol permits us to offer mandibular and chin feminization surgery with millimetrical accuracy. We determine the ideal jaw modification with you, the patient, so the change is just right for you, be it a significant modification or slight adjustment. Your jaw feminization with Facialteam is planned and performed with precision for the utmost in predictability, whilst also reducing the typical issues associated with the postoperative period.
Jaw feminization techniques do not involve the teeth or the bite (occlusion). Problems with the way the teeth meet can be addressed with orthodontics and/or orthognathic surgery. Ask the surgeon how to best plan your jaw feminization in the case other aspects of the maxilla (upper jaw) and mandible (lower jaw) also need to be addressed.
Procedure
We want you to understand which procedures are employed and how they will be performed in your case. The jaw procedure begins by accessing the jawbone via incisions inside the mouth, so you are not trading in a feminized jaw for visible scars.
First, three small, intraoral incisions are made: inside the lower lip and on both sides of the back molar teeth. Through these "keyholes," we can perform all the jaw and chin modifications necessary. This leaves the tissue inside your mouth, or "mucosa," largely intact, which is better for recovery and helps to protect the mentonian nerve.
This three-level method permits suturing on different planes in order to avoid problems in tissue healing, such as chin detachment or receding gums.
Leading Technology in Surgical Techniques
Facialteam is a leading expert in jaw feminization, dedicated to innovation. Years of commitment to pioneering techniques, developing protocols and establishing best practices in the field of facial gender surgery is in our DNA.
Our contributions to improving the gender transition experience, in the area of jaw surgery, include:
Advancements in ultrasonic instrument design specific to jaw angle surgery
3D-printing methodology with customized cutting guides as well as practice model surgery, when required, for risk prediction
Personalized, fixed biocompatible prosthetics
Our drive to revolutionize everything we do in jaw surgery, on a technical level, offers patients concrete advantages– let us explain in greater detail:
Piezoelectric scalpel (ultrasonic technology)
Piezosurgery® is the ultrasonic instrument employed in bone incisions and surface modification. Facialteam has worked with the Piezosurgery® developers to create new versions of the tool specially adapted for jaw angle surgery, capable of thick and vertical incisions. Combined with the cutting guides, results are controlled to the millimeter. Advantages of this surgical tool are multiple:
Precise cuts that only act on mineralized tissue (bone).
Predictable and safer osteotomies that practically eliminate irregularities typical of traditional practices with a manual scalpel, chisel or saw and that have been associated with uncontrolled bone fractures.
Does not cause soft tissue trauma, thus avoiding injury to the mucosa, muscle, nerves or blood vessels during the procedure, favoring a smoother recovery with fewer postoperative complications.
On the other hand, the only perceived disadvantage is the surgery duration, which is longer compared to other instruments. However, the benefits in results and recovery far outweigh the extra time required.
Cutting Guides
Our cutting guides are personalized "templates" which pilot the ultrasonic instrument to follow bone incision lines when surgical fields are affected by limited visibility, such as in the case of lower jaw feminizing surgery. This is how they work:
First, a three-dimensional CT scan allows for a more in-depth case study when imported into our specially developed medical software. This digital application helps us determine the best type and location of your jaw osteotomy.
After this virtual planning, the program permits the creation of your own anatomically-adapted cutting guide in our 3D Lab. Sometimes, in more complex cases, life-size 3D duplicates of your jawbone are also printed in order to do test runs with the cutting guide. This practice reduces risk by preventing unforeseen circumstances in the operating theater.
This three-dimensional planification is then applied in the actual surgery. This will permit the jaw bone design to be faithful to what was agreed upon with the patient, as well as symmetrical and mindful of safety parameters (protecting the mental nerves in the jaw).
To be clear, these anatomical guides are like splints or casts uniquely created to address both the jaw and chin in a single, smooth osteotomy (angle to angle). Other surgeons may address the rear jaw angles and the chin independently, without including the mandibular body. This segmentation may result in aesthetically unacceptable results. The application of these 3D guides in mandibular feminization surgery, developed and validated by our surgical team, represent a revolution in the field.
PEEK® customized Prosthesis
At times, we are presented with cases which require increasing volumes where fat transfer is not ideal. In this situation, an anatomically fitted prosthetic is personalized to your needs, be it a fuller feminine shape or to correct an anomaly, for example, to recuperate volume in a previously operated area with unsatisfactory outcomes.
From a three-dimensional CT, prostheses can be printed in biocompatible PolyEther-Ether-Ketone (PEEK) material, which does not generate rejection in the body. Rigid fixation with titanium screws secures the molded prosthetic in place.
Recovery after Jaw Feminization Surgery
After your jaw reduction surgery, you will likely be on your feet and able to return to the comfort of your own accommodations the day after your surgery. In case of combining jaw surgery with other procedures, an additional night at the hospital may be required. Nevertheless, that does not mean the initial nights are easy, on the contrary, be prepared for the commonly reported symptoms after any invasive intervention performed under general anesthesia: nausea, swelling, bruising, light bleeding, etc.
Short-term Healing
The first 48 hours are challenging for many FFS patients, whilst others report only minor discomforts. Each body will react differently and there is little way to know how it will be for you. It is best to try to remain as tranquil as possible as the team of nurses, coordinators, doctors and specialists are here to support you in any way.
Two – twelve weeks after surgery
Potential complications requiring surgical attention are much less likely to arise at this stage. Once the bruising has diminished, you should be able to resume your normal routines and work on regaining full jaw strength and movement. We do ask that you wait at least six weeks for any high intensity activities. Things will continue to settle and improve over the following months.
Long-term Recovery
Residual swelling and sensitivity continue to evolve. Throughout the course of your entire recovery process, our post-operative department is always on hand to assist and answer any questions that arise or arrange a consultation if needed.
Jaw Feminization Results
Thanks to the use of specific 3D software, we may conduct a detailed analysis of the actual results obtained, evaluating the short-term effect of the changes incurred at your final postoperative consultation before leaving Marbella.
We are able to clearly visualize the differences in three-dimensions, delivering a complete analysis to each patient for quality control and transparency purposes.
These standardized diagnostics allow the team to discuss early outcomes with each patient from the most objective point of view possible. One year after your surgery, you will receive a satisfaction and evolution survey, which helps us to constantly improve.
Micah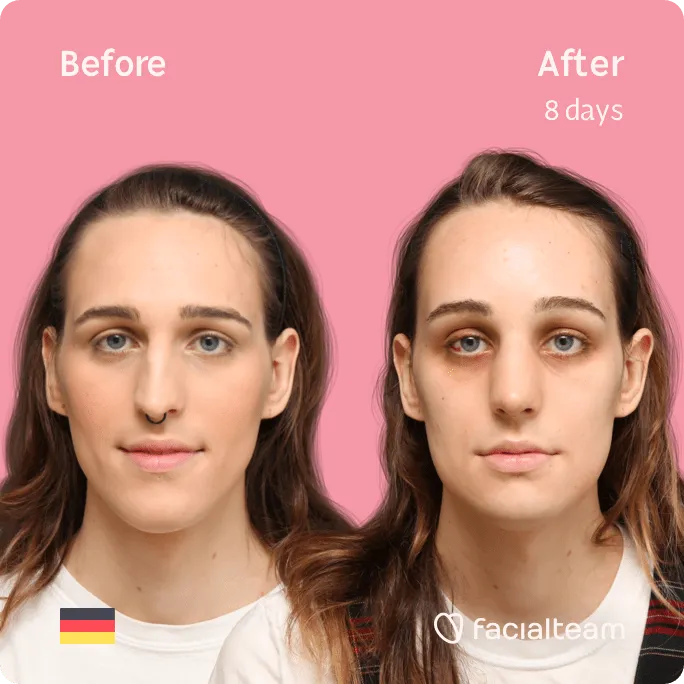 Complications
All surgical interventions, especially if under general anesthesia, are associated with an array of potential complications which are detailed in the informed consent documents. Minor incidents such as swelling, bleeding, or numbness, for example, may occur in varying degrees and are typically temporary symptoms that subside in time.
Major complications are rare and normally detected within days after surgery. Our patients have the security of our medical insurance coverage in case any unforeseen medical attention related to the jaw surgery is required.
At Facialteam, the average incidence of complications of jaw surgery that require another surgical intervention is 2,63%.
How much does Jaw Feminization Surgery cost?
The price tag of jaw feminization surgery can vary greatly, as the combination of diagnostics, techniques and procedures are diverse and highly personalized to each individual.
Jaw Feminization Surgery with Facialteam (including hospital fees and anesthesia) may range anywhere from 12.900 to 13.900 Euros. A combination of both jaw and chin feminization surgery normally ranges between 17.100 and 18.400 Euros.
Depending on the details of complexity and if you choose optional aspects, the final cost may be higher or lower.
The following services are included in all our quotes;
Pre-operative consultation, standard pre-operative preparations and necessary revisions
Preoperative and postoperative CT-scan
Material costs
Costs for the operating theater and general anesthesia
1 night in hospital
Postoperative accommodation (average of 12 nights, variable according to procedure and surgery dates in case your surgery is in Marbella. For Barcelona patients we can suggest a nearby Hotel)
Lymphatic drainage massage
Acupuncture service
24 hour coordination support
Post-operative nursing care
Health insurance for surgical complications up to 30 days after your surgery
Our recommendation is to obtain budgets from multiple centers, as each will have a different approach and include (or exclude) certain important aspects such as aftercare, accommodations, medications, local transportation, wellness services, etc.
Consultation
So, the first step in obtaining a personalized evaluation and a quote is to have a consultation with the jaw feminization surgeon.
Regardless of gender, every single patient has a unique facial structure. That means that our surgical plans are closely adapted to your personal needs.
An orientation with the facial gender specialist will begin with a discussion of your objectives. This helps us to establish the most essential procedures (if any), in order to find the optimal approach in your specific case.
Book your Consultation
We offer both online as in-person consultations in our clinic in Marbella, Spain. rnrnOur consultations are free of costs and a great aid for those patients seeking advice to start their journey.
Frequently Asked Questions
Numbness is a completely normal phenomenon after operating the chin or jaw. Your mental nerves are "stretched" during the procedure and your gum, with all the small nerve branches, is incised during the approach. Sensitivity symptoms (paresthesia, numbness, even pain) may appear during the first 3-4 months, these symptoms will disappear gradually.

The main trunks exposed during the lower jaw and chin recontouring are the mentalis nerves. It is essential to understand that these nerves are sensitive nerves and not functional nerves, so they are not responsible for any facial movement but for the sensibility and sensation in certain areas of the lower lip and teeth. Their location is accurately detected in the facial scanner performed before every surgery.

We use a special triple approach to avoid damaging the nerves and to keep them surrounded by mucosa during the whole surgery. We also perform our osteotomies with piezosurgery, with ultrasonic vibration that only cuts bone, respecting the soft tissues.

However, the exposure and stretching of the mentalis nerves during the surgery may produce different degrees of temporary numbness or feeling alterations. This is extremely variable from patient to patient, so it is difficult to predict how your reaction is going to be after the surgery.

Clean the incisions with the soft toothbrush that you received along with your medication, you can use your regular toothpaste. Some bleeding of the incisions is normal.


After brushing your teeth with your regular toothpaste, for the first 2 to 3 weeks after surgery,
use an antiseptic mouthwash 3 times a day (Perio-Aid, chlorhexidine diluted in water, or saline solution: 250ml warm water with a spoonful of salt). Do not use it after this period as chlorhexidine may stain teeth when using long-term.

In case you notice any staining of your teeth, suspend the Perio-Aid and get a mouthwash without chlorhexidine or simply use water with salt.

We insist that you do not smoke during the healing process.

For jaw and chin surgeries; continue wearing the chinstrap when you are at home and during the night for 3 more weeks.

The facial nerve, with the marginalis ramus which helps to move the corner of your mouth and lower lip, is situated "far away" from the operated region, although the inflammation can hinder its normal functioning.

It is a temporary matter which will improve once the swelling disappears.

During the procedures the masticatory muscles (that help to open and close your mouth) are undermined, detached or even cut, so they are now at the beginning of their healing process.

It is common to feel a blocking sensation during some weeks because of the swelling in the articulations.

If you still suffer this lock within two months, please, let us know and we will evaluate. Try to
gently massage the area in order to relax the muscles.
Research & Education in Jaw Feminization Surgery
The development of Facialteam's jaw surgery method JAWContour® is the result of years of research and clinical practice. We aim for the maximum degree of excellence in everything we do.
Scientific studies are continually carried out by our team. In addition, the top-level academic investigation involved in a Doctoral Thesis helps us to innovate options and improve results for patients. Most recently, Dr Javier Gutiérrez received his PhD at the Universitat Autònoma de Barcelona in October 2020 for his Thesis, "Customized cutting guides for the mandibular lower border: development, validation and applications in facial feminization and harmonization surgery."
Facialteam's experience in mandibular feminization surgery includes more than 2000 jaw and chin procedures.
Publications
Our academic literature is a record of our dedication to the science of feminization surgery of the lower facial third since 2008.
Professionals interested in the technical specifics of lower jaw recontouring may access the article on lower jaw techniques published in Plastic and Reconstructive Surgery®, the leading journal for every specialist who employs plastic and reconstructive surgical techniques: