Forehead Reduction Surgery for a Feminine Look
19 May 2022
read time - 6 min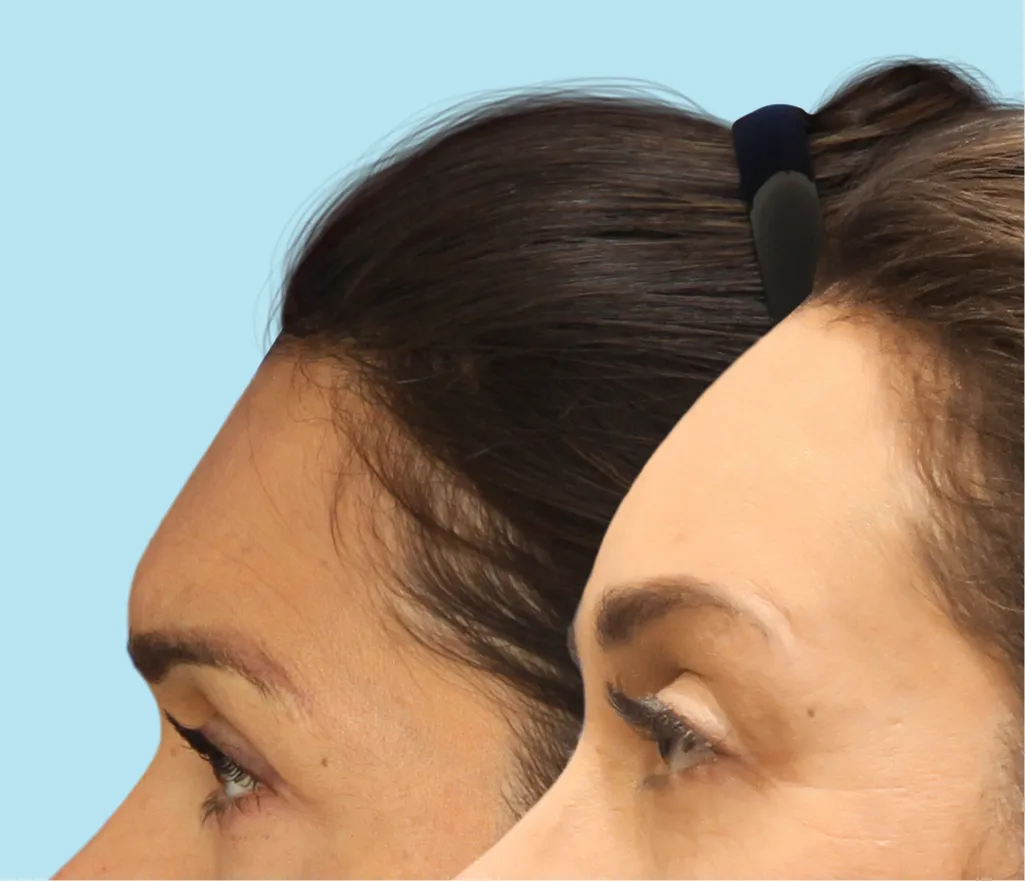 Forehead reduction surgery is a very common set of procedures for male to female (mtf) trans patients. Our surgical team at Facialteam has performed over 1.800 forehead reduction procedures for people seeking gender affirming surgery since 2008.
Forehead reduction surgery may include a brow bone reduction and hairline lowering surgery. These 2 different types of procedures can also be combined to obtain the most feminine forehead;
Brow bone reduction
A procedure to reduce the size of the bone beneath the eyebrows (the orbital rims and surrounding areas). This usually is combined with forehead contouring to smooth the entire forehead bone.
Hairline Lowering surgery
This procedure aims to visually reduce the distance between the eyebrows and the beginning of the hairline. However, this type of procedure is only recommended for patients with a significant and disproportionately high hairline.
Differences in Masculine and Feminine Foreheads
The forehead is a facial feature that undergoes some fairly dramatic changes in males during puberty. As a result, humans have learned to associate masculinity and femininity with different forehead appearances.
When people walk down the street, we may instinctively and subconsciously categorize the sex or gender of each passerby. These judgments are often based on traits known as secondary sex characteristics which enable the brain to determine a person's gender.
These "gender markers" include some obvious physical traits, such as fuller breasts and wider hips in females or facial hair in males. However, they also may be so subtle that most people don't even realize their influence on how we perceive gender.
The face contains many of these "signaling" traits, including the size and shape of the forehead. When we first meet a person, our vision is naturally attracted to the area surrounding the eyes. Our subconscious then determines gender quickly based on the forehead and the upper third area of the face.
How is Brow Bone Reduction performed?
A brow bone reduction is usually performed by making an incision in the scalp through which the bones of the forehead can be accessed. The excess bone is then removed, usually with a combination of a bone excision and bone burring method. The surgeon will reduce and/or remodel the forehead area based on the patient's facial features and desired results.
In the 3D animated video we step-by-step explain the surgical procedure for forehead reductions.
Brow Bone Reduction for a more Feminine Appearance
During puberty, natural hormones (testosterone) cause the bones of the forehead to change in males. The forehead becomes more sloped and prominent, and often a bony ridge forms just above the eyebrows. This is known as the brow bossing or supraorbital rim and is generally considered a masculinizing trait.
By reducing or removing the brow bossing the forehead area can be reshaped to be less sloped and more vertical. This results in a more feminine appearance of the upper third of the face.
How is Hairline Lowering Surgery performed?
There are various ways to perform a Hairline Lowering Surgery. Normally it consists of separating the area of the hairline and forehead by an incision.
The surgeon makes a 2 mm incision above the hairline to separate the top layer of the skin from the underlying tissue. A strip with a maximum width of 2,5 cm is then carefully removed.
Then the top part of the incision is lowered by pulling it down and joined again with the forehead. Doing so results in a shorter appearance of the forehead height.
Enhancing Forehead Reduction results with Hairline Feminization
For many trans women, the results of forehead reduction surgery can be enhanced with a hairline feminization procedure. Especially for patients whose hormones have stabilized and don't suffer male pattern baldness, hairline feminization can help to enhance results. This is because the shape of the hairline is another facial gender marker.
Masculine hairlines have a characteristic M-shape, with recessions near the temples and a peak in the center of the forehead. Feminine hairlines, in contrast, tend to be more rounded.
Malin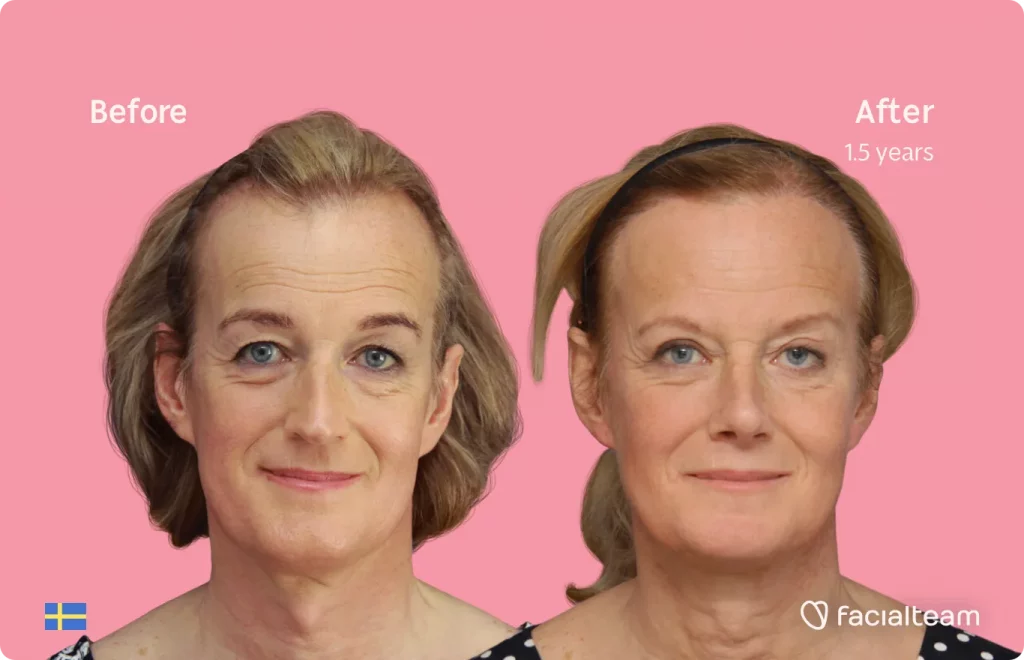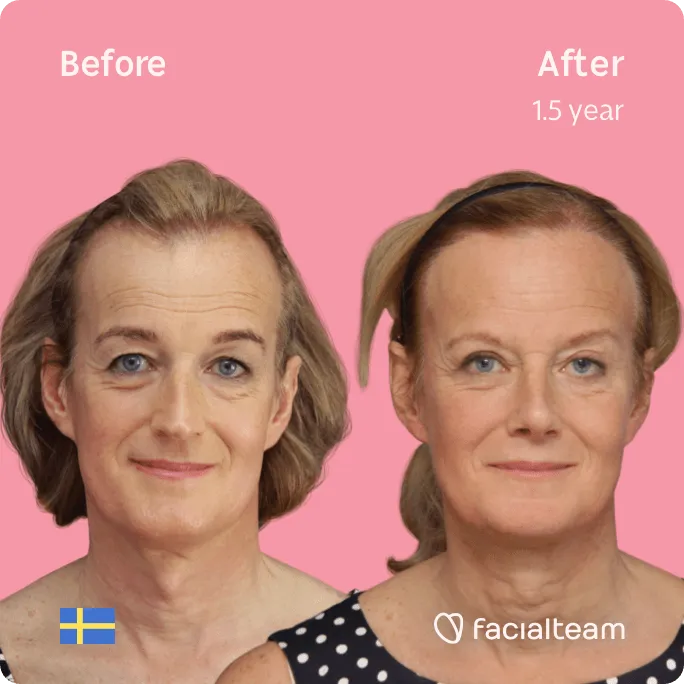 For many FFS patients, a more round hairline can be achieved through hair transplants. Healthy follicles are carefully moved from the top or back of the head. The follicles are then placed back into recessions and round out the overall appearance of the hairline.
Forehead Reduction Surgery cost
The price of forehead reduction surgery can vary, as the combination of diagnostics, techniques and procedures are personalized.
Costs for Brow Bone Reduction with Facialteam (including hospital fees and anesthesia) may range anywhere from 17.100 to 18.400 Euros. Hairline Lowering Surgery normally costs between 7.800 and 8.400 Euros. Final costs may vary, depending on the details of the procedure to be performed.
The following services are included in these prices;
Pre-operative consultation, standard pre-operative preparations and necessary revisions
Preoperative and postoperative CT-scan
Material costs
Costs for the operating theater and general anesthesia
1 night in hospital
Postoperative accommodation (average of 12 nights, variable according to procedure and surgery dates in case your surgery is in Marbella. For Barcelona patients we can suggest a nearby Hotel)
Lymphatic drainage massage
Acupuncture service
24 hour coordination support
Post-operative nursing care
Health insurance for surgical complications up to 30 days after your surgery
We always recommend getting budgets from multiple centers, which will vary in important aspects, so take your time to make comparisons.
Receive a personalized quote for free
Facialteam offers the possibility for you to speak with an expert FFS surgeon. During your consultation you will be able to ask any questions or doubts you may have on feminization procedures.

A personalized quote and treatment will be created just for you, based on your wishes and our surgeon's recommendations.
Goals of Forehead Reduction as a Part of FFS Surgery
The goals of our multidisciplinary team of specialists regarding forehead reduction surgery are aligned with our three pillars of ffs surgery:
Natural results
No visible scarring
Maintaining the patient's family or ethnic resemblance
Natural-looking results are what most FFS patients are seeking. Developments in technology make forehead reduction surgery with natural results more attainable and predictable than ever.
Forehead Reduction without visible scars
Even with very natural results, having visible facial scars from a forehead reduction surgery can be a giveaway that you underwent surgery. Even women who don't mind others knowing about their feminizing surgery, prefer to avoid visible scarring, simply because it isn't very attractive.
Our surgical team has revolutionized the field of forehead reduction in FFS surgery with our FOREContour® method. The procedure combines simultaneous hairline feminization and a subtle brow lift, all in a single procedure with no visible scars.
We strive to maintain each patient's core identity. A forehead reduction shouldn't change your face into someone else's. Instead, it should simply help to unmask the feminine face hidden under the surface.
Forehead Reduction Before and After
Gina is one of many patients that visited Facialteam for a Forehead Reduction combined with hairline feminization. Below pictures show her forehead reduction results as well as a clear indication how the hairline advanced even just 10 days after surgery.