What is Chin Feminization Surgery?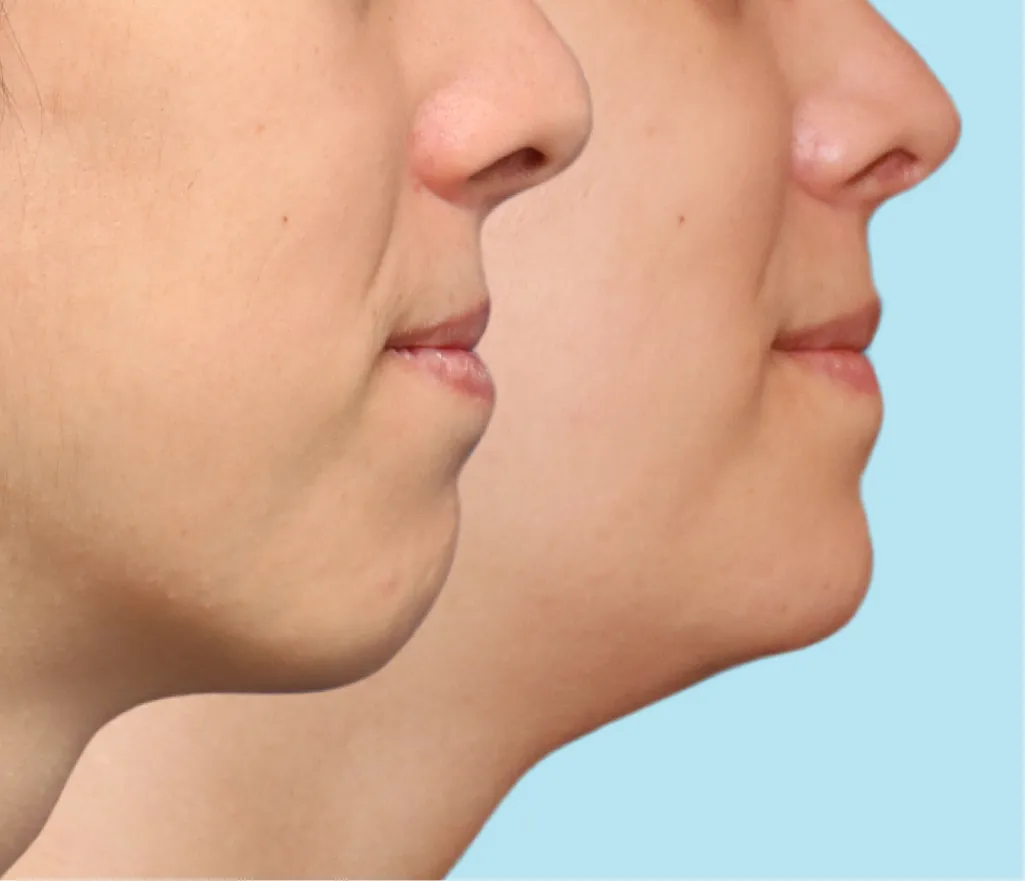 Wren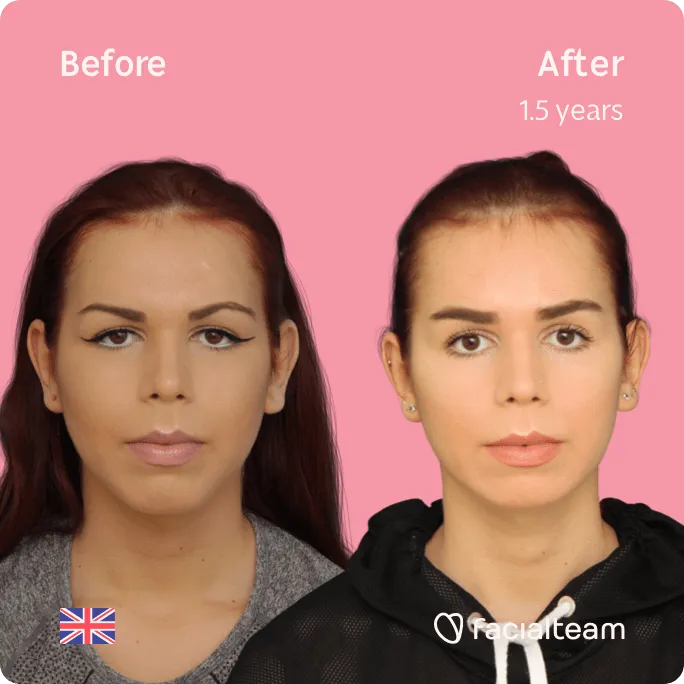 Chin Feminization Surgery, also known as Chin FFS, refers to the various types of chin procedures that can make changes to the position, format and volume of the chin.
Chinplasty, contouring or sliding genioplasty are examples of techniques which modify the gender markers of the chin. The features of the chin can be harmonized on several planes:
All of them give the face a more typically feminine appearance.
Objectives of Chin Feminization Surgery
Chin feminization surgery aims to give the face a more feminine appearance, whilst still looking natural. The changes will vary depending on the patient's anatomical characteristics and the desired results. A well-defined chin with balanced projection can improve the overall aesthetics of the lower jaw-chin region.
Am I a good candidate for Chin Feminization Surgery?
If you are unhappy with the appearance of your chin's gender due to the position, size, shape, excess height or width, then chin feminizing surgery may provide solutions.
Gender of the Chin Region
The male chin tends to be more square-shaped than the female chin, with more pronounced and defined transitions between the chin and mandibular body. Also, there is usually greater bone volume in male chins. Similarly, tall or long chins are commonly perceived as a masculine trait.
The position of the chin is not necessarily a gender marker, as retro-positioned and over-projected chins are found in people of all genders.
What is involved in Chin Feminization Surgery?
Chin feminization is the reconstruction of a part of the mandible bone. Therefore, it falls into the category of oral and maxillofacial surgery and is performed under general anesthesia. The transition between the lower jaw and chin is a key area where the mandibular nerves emerge, meaning it must be handled with great care and expertise.
JAWContour®, backed by over 14 years of experience and more than 1200 chin surgeries performed, offers minimally invasive options with millimetrical accuracy. Its 3D pre-planning and ultrasonic techniques have been supported with scientific evidence published by our research group.
Chin gender affirming procedures can vary and may be combined in different ways, as the case requires. The ideal techniques needed in your case will depend on your objectives too, as defined in consultations so the result may be as aggressive or subtle as possible.
Your chin feminization is therefore performed with the utmost precision and predictability, factors which reduce the incidence of the typical risks of the postoperative period.
Procedures in Chin Feminization Surgery
As mentioned, there are multiple approaches that are possible in chin feminizing surgeries. Essentially, chin feminization surgery involves sculpting the external bone contours and/or controlled excision of bone segments.
Facialteam's approaches involve small incisions hidden inside the mouth which will be invisible after the operation. This means the intraoral tissue or "mucosa" is kept intact and the mental nerve-endings are better protected. Another advantage of this small incision approach is that problems such as chin detachment or gum recession are avoided.
A sliding genioplasty, for example, sections the chin bone from front to back, separating the chin from the lower jaw for repositioning. By removing different segments, the surgeon can also modify the height and width for the desired shape, projection or regression. The segments are then fixed with titanium micro screws. Incisions are closed with intraoral stitches which dissolve in time.
Chin feminization techniques should not affect the teeth or how they meet (occlusion). Problems with the "bite" or occlusion of the teeth are addressed with services such as orthognathic surgery and orthodontics. These may be required in addition to chin feminization in order to correct more functional and aesthetic aspects of the maxilla (upper jaw) and mandible (lower jaw).
Our team does not use silicone implants due to the risk of instability.
Leading Technology in Surgical Techniques
Establishing best practices in the field of facial gender surgery has led Facialteam to innovate the techniques of chin feminization. Our commitment to pioneering new technology in approaches is aimed at improving both the patient experience and results.
Our contributions to improving the gender transition experience with chin feminising surgery include:
Advancements in ultrasonic instrument design specific to chin surgery
3D-printing methodology with customized cutting guides as well as practice model surgery, when required, for risk prediction
Personalized, fixed biocompatible prosthetics
Revolutionizing chin surgery, on a technical level, offers many advantages, which we explain below:
Ultrasonic Technology with Piezoelectric scalpel
Osteotomies, which are bone cuts, in chin feminization are executed using latest-generation ultrasonic technology. This technology allows the surgeons to make highly precise bone cuts without damaging the adjacent tissue, which consists of nerves, blood vessels and muscles.
Piezosurgery® offers the advantage of more predictable and safer outcomes with less complications in recovery. Combined with the cutting guides, results may be exacted to the millimeter.
Cutting Guides
The cutting guides are personalized "templates", which could be described as a type of three-dimensional stencil. The chin cutting guides pilot the ultrasonic instrument along bone incision lines in situations of limited visibility, such as in the case of chin feminizing surgery. Here's a brief summary of the chin feminization methodology in three steps:
First, a three-dimensional CT scan is imported into our specially developed medical software for analysis by the surgical team which determines the ideal placement and types of chin osteotomies.
This virtual planning with the program enables the life-size printing of an anatomically-correct cutting guide in our 3D Lab. When necessary for complex cases, 3D duplicates of your chin and jaw bone can even be printed for pre-surgical testing with the cutting guide, hence preparing for any unforeseen circumstances in the operating theater.
The 3D planification applied in your surgery means the chin design may be as exact as possible to your objectives, keeping symmetry and safety a priority.
The anatomical guides are personalized splints or casts that can address both the lower jaw and chin in a single osteotomy (angle to angle) with a more controlled and smoother cut compared to traditional methods.
PEEK® Customized Prosthesis
Occasionally, additional volume is desirable yet facial lipo feminization (FLF) is not sufficient. In this case, an anatomically fitted prosthetic may be customized to provide feminine volumes and/or correct an anomaly from a former surgery.
Again, after having a three-dimensional CT uploaded to our software, these moldable chin prostheses are printed with PolyEther-Ether-Ketone (PEEK) material. PEEK is biocompatible, with a low rate of rejection thanks, in part, to rigid fixation with titanium micro screws.
Recovery after Chin Feminization Surgery
After chin reconstruction surgery, you are able to walk the next day and can be discharged from hospital 1-2 days after surgery, depending on the number of procedures. The first few nights will be the most uncomfortable, with the most common symptoms being vomiting, inflammation, mild bleeding and bruising.
Short-term
As mentioned, most of the discomforts will appear in the first 48-72 hours for chin FFS patients. However, each person's body reacts differently. Your experience may vary from other surgeries you have had too. Our team of professionals are trained to provide you the most tranquility and wellbeing possible at this stage.
Weeks after surgery, the chance of potential complications drops significantly as bruising and swelling fade to a minimum. You are encouraged to keep mobile with light activity and we can suggest facial exercises to practice when ready. You should however wait at least six weeks before participating in any high intensity sports.
Long-term
As noted, chin feminization surgery is known to need more time for residual swelling and numbness to subside. The post-op department is at your service if any anomalies arise in the healing process, which will continue to evolve even after a year.
Results
A comparative analysis of your results is made possible thanks to the 3D diagnostics and clinical photographs which are compiled. The surgeon will review this initial postoperative assessment with you in the final consultation before leaving the clinic.
It will take approximately a year before outcomes can be evaluated on a clinical basis.
Once 12 months have passed, patients may request a follow-up consultation for a final assessment of results.
Complications
You should receive several informed consent documents that specify all the potential complications of both the procedures as well as general anesthesia.
Symptoms such as swelling, bleeding, or numbness will occur in varying degrees that gradually subside in the long term.
Major complications can happen yet are rare. Thanks to our close monitoring, the risk of developing this type of problem is diminished significantly. Facialteam offers the security of medical insurance coverage in the event urgent medical attention is required.
The incidence of chin surgery complications that require another surgical intervention at Facialteam is 1,88%.
How much does Chin Feminization cost?
The price of a chin reduction depends on the techniques and facial feminization procedures employed as each surgical plan varies according to the individual.
Chin feminization with Facialteam (including services, hospital fees and anesthesia) may cost anywhere from 13.500 to 14.500 Euros. A combination of both chin and jaw feminization surgery normally ranges between 15.500 and 16.700 Euros.
Final costs may be higher or lower depending on the options you choose.
The following services are included in all our quotes;
Pre-operative consultation, standard pre-operative preparations and necessary revisions
Preoperative and postoperative CT-scan
Material costs
Costs for the operating theater and general anesthesia
1 night in hospital
Postoperative accommodation according to procedure (7 or 12 nights)
Lymphatic drainage massage
Acupuncture service
24 hour coordination support
Post-operative nursing care
Health insurance for surgical complications up to 30 days after your surgery
Our recommendation is to obtain budgets from multiple centers, as each will have a different Consult with more than one surgeon about your chin feminization in order to compare technique, results, included services and pricing. Approaches and aftercare will vary, so it is recommended to become well-informed and take time before deciding what is best for you.
Consultation
We remind you that every face is unique and requires a personalized approach. Similarly, each patient has different hopes for the results of their chin FFS surgery.
So, the first step in obtaining a personalized evaluation and quote is to have a no-cost consultation with the chin feminization surgeon. Facialteam consultations are always free and will help you learn what are realistic expectations of your chin surgery.
The facial gender specialist will listen to what your own specific goals are with chin surgery. This way, we establish which are the most necessary aspects to address, if any, and build the optimal plan in your specific case.
Book your Consultation
We offer both online as in-person consultations in our clinic in Marbella, Spain.

Our consultations are free of costs and a great aid for those patients seeking advice to start their journey.
Research & Education in Chin Feminization Surgery
Facialteam's FFS chin techniques are the result of years of research based on clinical practice with more than 1200 chin procedures performed as of February 2022.
Striving for excellence in all we do has meant innovating the traditional techniques with new technologies that offer greater control in the surgical setting.
Our scientific studies help make this happen, leading academic investigations that aim to improve results for future FFS patients.
Publications
Facialteam's academic literature is proof of our dedication, since 2008, to the science behind chin feminization surgery.
Professionals interested in the technical specifics of chin recontouring may access the article on lower jaw techniques published in Plastic and Reconstructive Surgery®, the leading journal for every specialist who employs plastic and reconstructive surgical techniques: