The benefits of ultrasonic instruments in FFS surgery explained
14 April 2020
read time - 4 min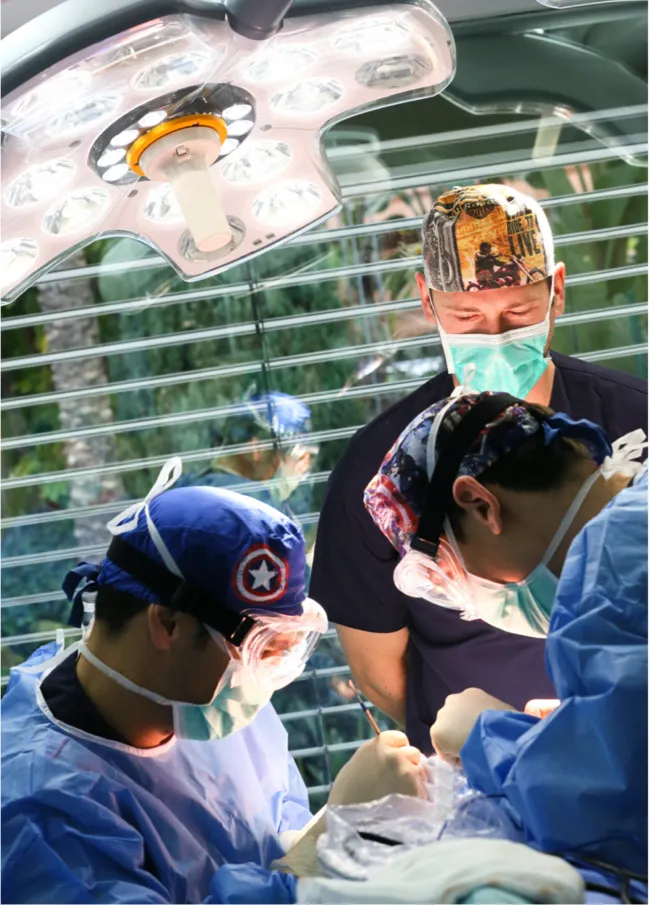 At Facialteam, we've long been supporters of the use of ultrasonic instruments in FFS surgery in the place of traditional methods. We believe in embracing the latest technology in our methodologies permits us to provide our patients with the best possible experience in facial gender-affirming surgery.
Clients, patients and even other professionals ask exactly why we prefer these ultrasonic instruments in FFS Surgery.
What is it exactly that makes ultrasonic instruments so much better for use in facial feminisation surgery?
Why do we, at FacialTeam, invest so much time and energy into advancing these techniques?
And how are we working to spread knowledge about them amongst the FFS surgery community?
This post shares our explanation of how ultrasonic technology in FFS Surgery provides undoubtable benefits for the patient and surgical provider on all levels.
How do ultrasonic instruments in FFS surgery make a difference?
The ultrasonic instruments we use here at Facialteam are known as Piezosurgery®, produced by Mectron in Italy.
The technology does mean that the procedure takes slightly more time than with traditional facial bone surgery techniques, so some surgeons are sceptical still. But we strongly believe that the extra time is worth the wait. Postoperative experiences are far more conducive to our patient's well-being, cause less trauma and produce better end results, so the a small increment in surgical time becomes insignificant considering the advantages.
Piezosurgery is amazingly safe and predictable, allowing for very precise cuts, or osteotomies, to be made into bone without affecting any neighbouring structures like skin, muscle, nerves or blood vessels. Sound incredible? Well it is true, the surgical world has access to a surgical instrument which avoids in great measure the problematic trauma to surrounding tissues.
Ultrasonic instruments minimize dramatically the issues due to the swelling and bruising which ensue after an intervention, main sources of postoperative complications.
It's particularly relevant for use in difficult to access areas and for osteotomies that involve curved cuts, such as the jawline. In nasal surgery, it means that trauma to the soft tissue is kept to a minimum, the procedure can be more precise, and there is a lower risk of any complications post-surgery.
Working towards innovating ultrasonic technology in FFS surgery with Mectron
Mectron develops and fabricates the latest technology for maxillofacial surgery (surgery of the face, mouth and jaw), only selling the very best quality surgical equipment. FacialTeam has a longstanding relationship with their engineers.
In January, a training course was organized in Verona, Italy, for members of Mectron's international representatives. The idea behind the educational event was to train their team in the up-to-date applications of the tool and show first-hand how this technology is used in facial reconstructive surgery, such as facial feminisation.
Dr. Luis Capitán explains, "It's important for technicians to be able to see for themselves exactly how the ultrasonic instruments are used currently in order to continue to develop new applications. A comprehension of the full ramifications will also enable Mectron to transmit the benefits of it's use to other surgeons interested in implementing ultrasonic technology.
This 2020 course was globally attended event that brought together over 50 specialists from Italy, the USA, Germany and India, where Mectron has subsidiaries. There were also representatives from South America, North America, Asia and the UK present at the day-long training session.

Dr. Luis Capitan demonstrates ultrasonic instruments in FFS Surgery in cad-lab
Dr. Luis Capitan, CEO and co-directing surgeon of Facialteam, was invited to impart a private cadaver workshop, or cad-lab, for the specially united Mectron team.
After a talk in which he explained who FacialTeam are and what we do, he replicated the facial feminisation surgical techniques on specimens, mainly focusing on the jaw area. Throughout the day, the participants were able to ask any questions and even try the techniques themselves.
Practical sessions on cadavers are also vital for further developing the different utilities of the PiezoSurgery instrument, which FacialTeam and Mectron have been working on closely since 2017 to create new prototypes better adapted to facial feminising procedures.
Training sessions such as these mean that more patients will undergo a safer surgery with more predictable results and less associated complications by taking advantage of the latest ultrasonic instruments in FFS surgery.