From Australia to Spain: Sienna's Courageous Journey Through FFS Surgery with Facialteam
08 June 2023
Sienna, a spirited individual from Australia, recently had her Facial Feminization Surgery (FFS) at Facialteam in Marbella, Spain. Only 8 days post-op, she eagerly sat […]
Sienna, a spirited individual from Australia, recently had her Facial Feminization Surgery (FFS) at Facialteam in Marbella, Spain. Only 8 days post-op, she eagerly sat down with us to share her experience and the transformations she's already begun to witness.
Early Life and Coming Out
From her adolescent years, Sienna knew she was on a journey to align her identity with her true self. She initially came out when she was 17 or 18 years old, but the complexities of life led her back into the closet. It took another 8 years for her to come out again and gather the financial means to afford the transition.
The Surgery and Immediate Results
The surgeries, which included a forehead reconstruction, slight genioplasty, and tracheal shave, were intense but the results promising. Despite the tough post-op period, Sienna noted, "As soon as I came out of the operating room, before the puffiness and swelling started, I saw results." Eight days into her recovery, a lot of the swelling has subsided, and she's once again experiencing the joy of witnessing her transformation.
Sienna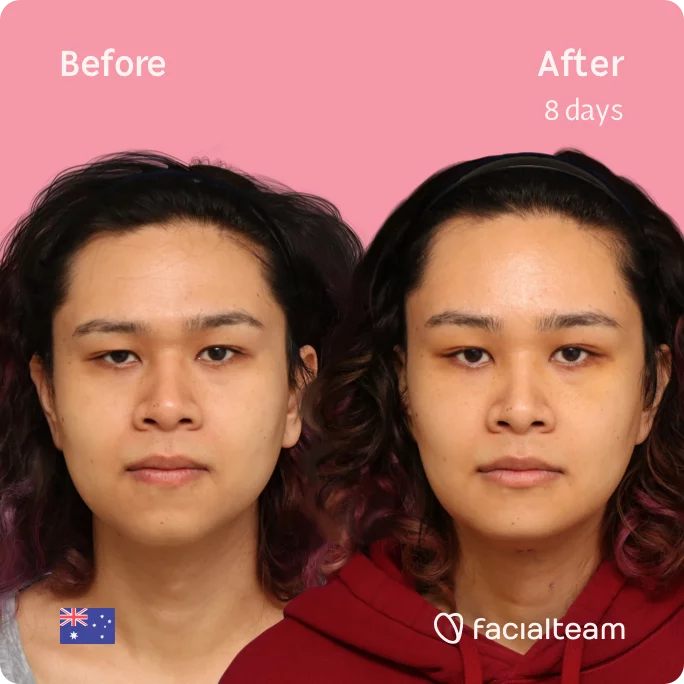 For Sienna, this surgery is much more than an aesthetic change. It represents a new beginning where she can regain her time and energy. She's excited for everyday activities, like going shopping or to work, without the need to invest extensive efforts in masking her features.
Bridging Distances: Support Beyond Borders
Despite the geographical distance, Sienna's journey to Marbella from Australia was eased by Facialteam's comprehensive support. She expressed her gratitude for the continuous check-ins and the comfort of knowing someone was always available if she needed assistance.
As a patient from a non-English speaking country, Sienna appreciated that Facialteam provided her with contact details and constant communication through WhatsApp, ensuring her recovery went smoothly. This international support left a deep impression on Sienna, contributing to her overall fantastic experience.
Meet Facialteam Surgeons
Attention to all Australian patients: we're thrilled to announce that Facialteam Surgeons are available for online orientations!
This is an incredible opportunity to discuss your journey, concerns, and expectations about FFS surgery directly with our expert surgeons. They will provide personalized advice and insights, helping you to make informed decisions about your journey.
Don't miss out on this unique opportunity to connect with Facialteam Surgeons! Click here to reserve your spot.
Sienna's Heartfelt Advice
Sienna's advice to anyone preparing for FFS is simple and heartfelt, "Try to relax in the run-up to the surgery. It's going to be tough for the first couple of days; just know that you will get better, the swollenness and puffiness will go down, and then things are going to be good."
Sienna's story is one of courage and determination. It offers hope and inspiration for many who are considering a similar journey. At Facialteam, we're committed to providing comprehensive care for our patients, turning the toughest journeys into transformative experiences.