CONSULTATIONS
VIRTUAL FFS
What is Virtual Facial Feminization Surgery (VFFS)?
VFFS is a powerful tool that emulates the potential results of facial feminization procedures using clinical photographs. To explain, Virtual FFS consists of digitally simulating specific facial images in order to approximate certain FFS Surgery procedures.
Virtual feminization can depict the differences between having a single procedure or a set of procedures, for example. The different procedures may be shown in progression in order to see how combinations of techniques may affect the facial features.
Note: As with all simulations, there is a degree of variability with respect to the actual results obtained with FFS. Also, the simulations are more representative of long-term results, about 1 year after surgery.
Two main benefits of Virtual FFS
Virtual facial feminization simulations provide two key advantages for the patient considering surgery.
1.Hash out the best procedures
Virtual FFS allows both the patient and surgeon to consider procedures of marginal benefit. Virtual facial feminization greatest benefit is that it helps you to determine which techniques have the most impact. Thus, it is often fundamental to creating the optimal surgical plan for you.
VFFS is a tool to help patients understand the changes that bone sculpture techniques can produce in facial feminization surgery.  Likewise, sharing the virtual FFS results with family and friends helps them also understand the impact of the surgery. Having an approximate "preview" of results alleviates some of their uncertainty about how their loved-one will look after surgery–to their relief!
 2. Adjusting expectations
Many patients initiating their research in facial feminization are not yet aware of the ramifications and limits of facial feminisation surgery. Some have unrealistic expectations of how their features may change.  Others unconsciously believe that the surgery will solve all their life problems, which is impossible.
These erroneous ideas are often clarified when discussing your VFFS, which assists in establishing realistic expectations. This is important since many people are afraid of looking unnatural after cosmetic and plastic surgery.  However, Facial Feminisation Surgery has a different objective and distinct approaches. VFFS helps to illustrate this to people considering the surgery.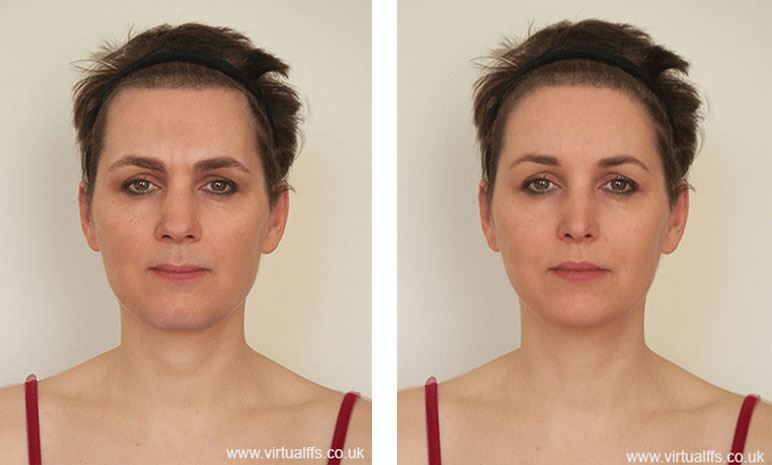 Will I receive a virtual FFS simulation?
In select cities, our virtual ffs free simulations are created onsite by Alexandra Hamer of VirtualFFS.co.uk. She is an independent VFFS specialist with decades of research in facial feminization.
In other locations a highly trained artist trained in the digital simulation of photos is often available.
Three steps of FACIALTEAM's Virtual FFS process
If you attend FACIALTEAM´s orientations or consultations which include Virtual FFS, there are three basic steps in the process:
A coordinator takes clinical photos onsite or asks you to send clinical style photos in advance of your video consultation.  See instructions on taking the photos for a video consultation here.
In select consultations, a "rough draft" virtual simulation of one photo will be generated manually by a digital artist. If attending a video-orientation or virtual consultation, specific photos will be requested in advance. This allows the team to prepare the VFFS ahead of time for discussion during the meeting.
At the end of the orientation or virtual facial consultation, you will have time to discuss the potential results based on the VFFS.
Third-party professional opinion
In addition to the digitalised results, Alexandra Hamer also provides her professional opinion, completely independent from the surgeons. This comprehensive approach to the consultation gives patients a better perspective of their own treatment.
Her third party-perspective on your case is also an informed point-of-view in which she makes important recommendations to consider while in the research phase.