Comparing Simultaneous Hair Transplant vs Hairline Lowering
24 March 2021
read time - 8 min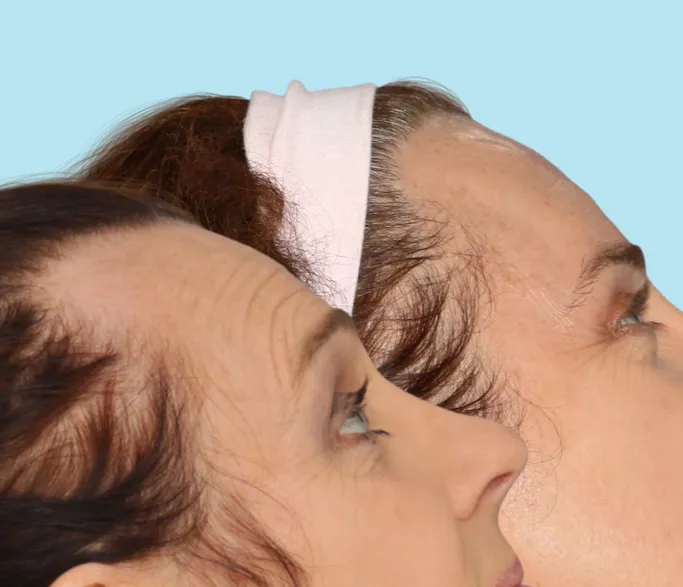 In light of some questions raised by the community, Facialteam's surgical group wishes to expand on the information related to our forehead reconstruction with simultaneous hair transplants (SHT) technique.
This post aims to confirm the reliability, attention to detail and natural result offered by the SHT technique. Also, we include images of patients that came to Facialteam for a correction of hairline incisions performed at other centers.
These redoing cases show that scars on the hairline do not always evolve well. In most cases, a hair transplant is necessary: both to hide the scar as well as round the shape of the hairline. However, it's not an ideal solution, as hair transplants performed on scar tissue will not have the same rate of success as those grafted in normal tissue.
When did hairline feminization with Simultaneous Hair Transplants (SHT) begin?
Facialteam began performing the SHT technique in 2011. The team's Research & Development workgroup became the first to publish in 2017 on the topic in scientific literature. The possibility of combining the forehead reconstruction technique together with the improvement of the hairline via simultaneous hair grafting, referred to as SHT for short, gained recognition in the medical community (PRS: Facial Feminization: Simultaneous Hair Transplant during Forehead Reconstruction).
This innovative technique is a modern alternative to the standard hairline lowering approach traditionally used by specialists in facial feminization.
Why did simultaneous hair transplants develop?
Hairline lowering surgery (HLS), also known as scalp advancement, is associated with various disadvantages.
A visible scar all along the hairline

Unnatural-looking hairline

A central area of the forehead may become excessively narrow

Ineffective closure of the temples with a risk of wide scars caused by tension.
These problems are why Facialteam searched for a way to address the forehead and hairline feminization simultaneously. Patients wanted to avoid the aforementioned disadvantages of Hairline Lowering Surgery (HLS), yet without multiple operations.
Below are some examples of hairline lowering outcomes.
Note: these are not Facialteam results.
Positive results of simultaneous hair transplants
After more than 9 years and almost 500 SHT patients, Simultaneous Hair Transplantation can be considered a safe, predictable technique that generally achieves its main objective: the feminization of the hairline height and shape without a visible scar along the hairline.
See examples of SHT by Facialteam below:
Key Aspects of Simultaneous Hairline Transplant Technique
We would like to emphasize three key aspects of the Simultaneous Hairline Transplant technique:
It is not a conventional and isolated hair transplant technique. SHT involves a technical and logistical complexity which permits us to take advantage of the incision made for the forehead reconstruction (anterior or posterior coronal approach). Both the material and human resources required are superior to those of a standard hair transplantation– approximately 12 to 14 specialists, between FFS surgeons and hair specialists are involved in each SHT.
Being a combined method (performed in parallel with forehead reconstruction), the amount of hair follicles obtained is subject to several factors:

capillary density in the donor area

number of correct type of follicles (not all the follicles obtained can be used in the redefinition of the hairline)

the surface targeted to be covered: On extensive areas of alopecia (balding) -large temples- the follicle requirements can be high and sometimes require up to a second hair transplant.

The redefinition of the hairline with hair transplants is an ultra-specialized approach, that differs from a conventional hair transplant. It requires extensive experience and exhaustive knowledge of the trans patient's hairline. Specifics such as an adequate blending of hair follicles transplanted with native hair, angulation of the follicles, re-densification of the central area of the frontal line, alignment of the follicles according to their typology, and more, are part of the professional language of our specialist capillary team.
SHT resources for patients
Throughout our website there are many other posts related to the hairline and the different options available. Here are a few links to help you research what will work best for you:
Efficiency in feminizing the upper third of the face with the SHT combined technique and how hairline lowering (HLS) can be masculinizing.

To date (March 2021), we have performed 485 SHT procedures.
What is it exactly that gives femininity to the hairline? Read our guide about the influence of shape, height, and density with numerous example cases.
For a step-by-step description of the Simultaneous Hair Transplant (SHT) method,

read more here

. 
Facialteam Ethics
Finally, we would like to add that, just like any medical group that innovates and creates a new surgical technique, we have faced numerous challenges. We are extremely proud of all our patients, the vast majority of whom are satisfied with their SHT results. Achieving full satisfaction of all our patients is a lofty goal that forces us to incorporate improvements every day. Despite its difficulty, excellence is the path we have opted for.
We consider ourselves an open, transparent, professional and ethical team. For this reason, we are always ready to listen to feedback, problems and even dissatisfaction from our patients. In fact, we have created a comprehensive care department dedicated to this.  If patients are unhappy with results, we listen.  When the issue meets objective parameters and we see there is room for improvement, we will always put options on the table and give  patients the freedom to make the most convenient choice. 
On many occasions, a personal evaluation is necessary so we may carry out diagnostic tests for an exhaustive analysis of the case. Our postoperative team remains available to address the many doubts after surgery in the most comfortable and effective way.
We hope that this post answers some of the questions raised about our methodology and serves to encourage patients to maintain the two-way communication which is so essential for the correct management of postoperative concerns.
FAQ about SHT
Here are some common questions regarding hairline feminization. Send us your questions!
What are all the hairline feminization options?
There are quite a few! We try to summarize it all on our hairline feminization page, where we define hairline types, have a playlist of videos plus an informative 3D animation on SHT and link to our peer-reviewed study of SHT cases as well as when we indicate a hairline lowering procedure. A consultation is the best way to clarify what's best for you.
In what cases would a lowering with a hairline approach be indicated?
When the hairline is already rounded yet the forehead presents a vertical excess (Tall Forehead) which SHT cannot sufficiently address. Nevertheless, these cases will often require a Hair Transplant session performed after the healing of the hairline scar. This is necessary because the Hairline approach has many limitations in obtaining a round hairline. Also, the remaining scar may be problematic for the patient, and the transplant can help address this issue as well.
How does SHT work at Facialteam?
It takes a large crew! While FFS is being performed, a crew of 5-7 technicians are busily splicing the donor follicles from the excess strip of scalp which is always generated in forehead feminization. In any given SHT surgery there will be 1 or 2 hair transplant surgeons who are double-trained in dermatology. Meet our SHT experts here.